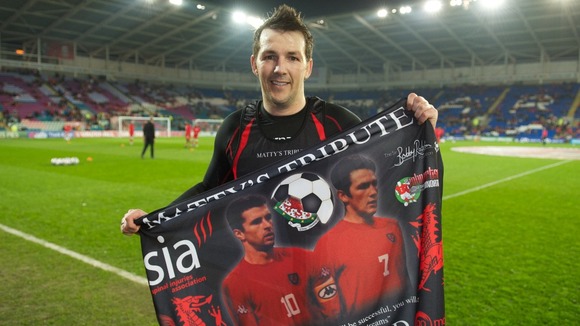 A team mate of former Wales manager Gary Speed is to run a half marathon ahead of Swansea's home game against Newcastle in the Premiership. Matt Jones, from Llanelli, played alongside Speed at Leeds United as well as for Wales. He is running the distance around the Liberty Stadium pitch to raise money for good causes.
Matt Jones has already raised over £4,000 and his target is £10,000. He hopes to devide the money between the Spinal Injuries Association, the John Hartson Foundation and the Sir Bobby Robson Foundation.
In addition to the half marathon at Swansea, Matt has already completed a marathon ahead of the Gary Speed memorial match at the Millenium Stadium. He was thanked at the event by Gary Speed's mother who said she was 'very proud' of his efforts. Matt is also planning to run up Snowdon.
It's hard doing the running around a football pitch. Depending on the ground, it's about 68 laps for the half marathon. It's not easy keeping turning all the time and I've developed a sore knee as a result. Physically it's hard but mentally I can do this because I know it's for Gary.
– Matt Jones

The former Wales manager, Gary Speed, died in November 2011.