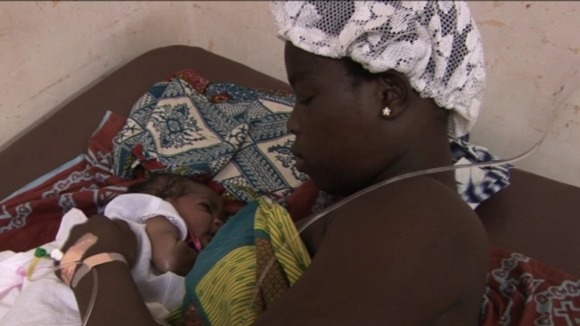 For most families in Wales pregnancy and childbirth are times of joy. But in Africa, where one in eight mothers die from complications in pregnancy, it can be a time of fear and trepidation.
We the muslims, when we deliver, our people help, but they are interested in the child that has been born, they come and take the child the aunties will come the grandmas will come, seldom do they show any interest in the mother who has delivered.
– Amena Bukari, Psychiatric Nurse

A retired nurse from Cardiff is trying to combat the problem. Angela Gorman has set up a charity called Life for African Mothers. Through a small office in the heart of Cardiff, Angela and her team run the campaign to rid the world of Maternal Mortality.

The team have been working in some of Africa's most troubled countries since the charity was formed six years ago, and have so far managed to reduce maternal mortality by 20 per cent.

Currently there are 550,000 mothers dying every year and most of them are dying unnecessarily through lack of basic training in midwifery. Maternal Mortality statistics in Ghana are not as bad as in some parts of Africa, but those involved say they are still shocking compared to the west.

The team are currently working alongside the government and an organisation called Al Muntada in London in order to source, fund and ship resources and find people with the right skills to help.

In Ghana, medical supplies are a big issue and is something the charity is addressing. The main medications supplied address the conditions of pre-eclampsia and post-partem haemorage and they are not covered by the health insurance scheme. But its main task, and one that will make the most significant impact, is the provision of basic training.
Education is really vital…people need to be enlightened; they need to know there are certain things they do that affect their health. We need more intervention so we can collaborate and at the end of the day we can achieve millennium development goals for mother Ghana, mother Africa and the world.
– Chairman of Al Muntada

The latest trip to Ghana was a success for Angela and the Life for African Mothers team. They hope to expand the pilot project and visit other Islamic Countries in North Africa.

Angela Gorman, who has set up the charity Life for African Mothers, speaks to ITV Wales on the issue of maternal mortality.