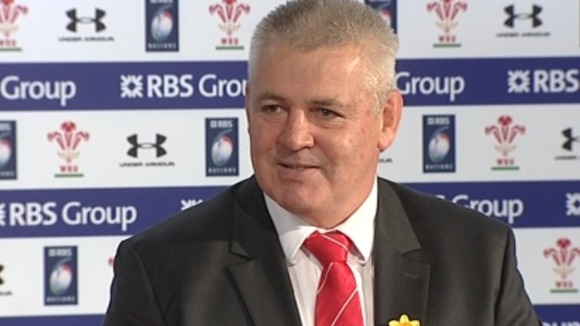 Warren Gatland will miss Wales' summer tour to Australia following an accident in which he fractured both his heels in a fall at his home in New Zealand.
The WRU have confirmed that Caretaker Head Coach, Rob Howley, will take full control for the forthcoming summer internationals against the Barbarians and Australia.
The decision was taken after doctors ruled out a return to Wales for Gatland in time for the Barbarians test on June 2nd.
It also seems highly unlikely that Gatland will have recuperated sufficiently to take charge of Wales in Australia before the first Test match in Brisbane on June 9th.
Gatland has declared his full approval of the decision which the WRU hope will offer certainty to players and coaches as the preparations and planning for the matches now enter an important preliminary phase.
Warren has taken the appropriate medical advice and agrees that appointing Rob as Caretaker Coach in his absence is the best way forward for our Grand Slam winning squad.

Rob, Warren and I have talked this through thoroughly and it makes absolute sense to ensure the chain of command and authority levels are recognised.

Warren can now concentrate on getting back to robust health before taking back full control of Wales to continue the great work he has already achieved and Rob can take this opportunity to develop as a coach at the highest level.

The appointment of Rob Howley as caretaker coach is deeply significant for our long term succession planning. Rob has the total support of all of us at the WRU. This is an opportunity for us all in these unforeseen circumstances.

We have an outstanding team of coaches and management all of whom are critically important to the success of the national team."
– Rodger Lewis, WRU Chief Executive

While Rob Howley will have full control of all aspects of team preparation and selection he will continue to liaise directly with Gatland but the pair have confirmed that the final decisions will be made by the caretaker coach.
I will give one hundred per cent of my effort to ensuring we are fully prepared to meet the challenges and take the great opportunities which lie ahead in this summer series.

We will be working to secure victory against the Barbarians after the defeat we suffered last year and the Tests in Australia are an opportunity for us to deliver a win in the southern hemisphere.

Along with the rest of the coaching team I am immensely proud to have been offered this opportunity and we will give our all until Warren is ready to take full control again.

The players know all about the roles and responsibilities we perform and what we all have to deliver for the national cause over the months ahead.
– Rob Howley, Wales Caretaker head Coach

Gatland will not undergo immediate surgery as his injuries are given time to heal before any further decisions are taken.

He was injured at home in a fall from the railings around decking at his Waihi beach house and suffered multiple fractures to the heel bone in his right foot and a fracture to the same bone in his left.

He has been advised that the injury to his right foot is severe and it is unlikely he would be able to bear weight on the limb by early June.