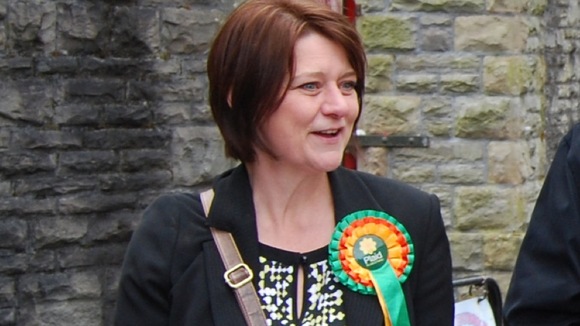 All parties argue that their council candidates offer the voters the best possible representation but they know that the results in next week's local elections will also be heavily affected by what people think of the party leaders' performances. That gives Plaid Cymru's leader, Leanne Wood, a couple of problems that could turn out to be opportunities.
As she only took over from Ieuan Wyn Jones last month, she's new with little time to make an impression before polling day but that could be turned to her advantage if it give Plaid a fresh start after last year's poor Assembly election performance.
Also she's the only leader when the other parties have both Welsh and UK leaders to project to the voters. But for Leanne Wood the key battle for voters' hearts and minds is with the Labour leader and First Minister, Carwyn Jones.
If Carwyn Jones wants to strengthen the Welsh shield to protect people against Tory rule, then let's have an open conversation about how we can go about creating a real Welsh alternative.
– Plaid Cymru leader Leanne Wood AM

The Plaid Cymru leader is arguing that her party is an essential part of any effective challenge to the policies of the Conservative Liberal Democrat coalition at Westminster. And it is a response to Labour's argument that a vote for them next Thursday would support both Carwyn Jones and Ed Miliband in their battles with the UK government.
Twelve months ago, after receiving the backing of the Welsh people, Carwyn Jones made it clear that he wanted to set aside tribal politics and work with others for the good of the people of Wales.

However, the reality at this election is that only Welsh Labour is able to stand up for Wales against the Tory/Lib Dem government. Only a strong Welsh Labour vote will send David Cameron and Nick Clegg a message they will understand.
– Welsh Labour Spokesperson

Today Leanne Wood takes her argument to the Valleys. It's the part of Wales where both Plaid Cymru and Labour deploy their 'we can stand up for Wales' argument most forcefully. The rain might dampen her reception this morning but she will know next week if her message has been getting through.