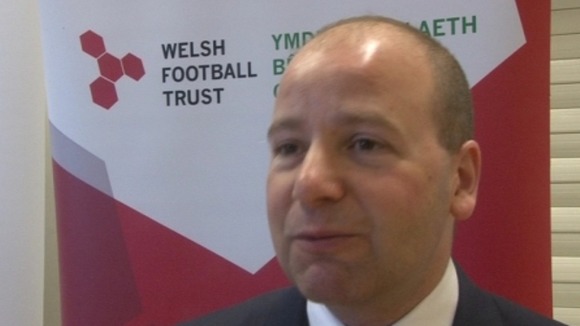 The chief executive of the Football Association of Wales has called on the Welsh Government to give more cash to Welsh football claiming the sport does not currently get the same level of funding as rugby.
Jonathan Ford called on the Welsh Government to give more cash to the sport, promising that investment would "halve their health budget" by improving fitness levels.
He made the comments as he gave evidence to a panel of Assembly Members looking at improving Wales' Premier League.
Don't get me wrong, I love rugby. But when you actually look at the hard facts and the numbers behind it, in football clubs versus rugby clubs alone we've got something like 1,500 clubs, rugby has 323.

The numbers absolutely are totally different. And if you look at the numbers of players, we outstrip on a three-to-one basis.

There are many more people that participate and spectate in football, yet the money on proportionate basis is not equal with what we should get versus rugby.

It's not quite a level playing field"
– Jonathan Ford, Chief Executive FAW

During this morning's committee hearing in the Senedd, Mr Ford said the Welsh Premier League had come on leaps and bounds since its formation in 1992.

However, he went on to say that Wales lags behind the other Home Nations in terms of investment.

The annual turnover of the FAW is just under £10 million and Mr Ford claimed that the funds they are investing are not being matched to any great degree compared to other Home Nations.

Recently, Northern Ireland have announced an investment in infrastructure of £36 million, while at grassroots level, the sport in England receives around £30 million pounds.
I can quote so many examples of where governments work very closely with sporting bodies to ensure that money is invested. Forgive me, but there is very little from the Welsh Government going into sporting infrastructure. It needs to change
– Jonathan Ford, Chief Executive FAW

In the past Wales have played games at Wrexham's Racecourse ground but he warned that unless money was spent, national team matches would have to be played in south Wales for the foreseeable future.

The FAW chief also added that he would also like to see more Welsh Premier League football teams have artificial, or "3G", pitches.

He said they could prove lucrative to clubs as they could be leased out during the week and used for local sides.

Mr Ford and Welsh Premier League Secretary John Deakin, who also gave evidence today, added that they both were in favour of Wales' football season being switched to the summer.

Doing so, they said, could improve Welsh Premier League teams' progress in European competitions in the future.