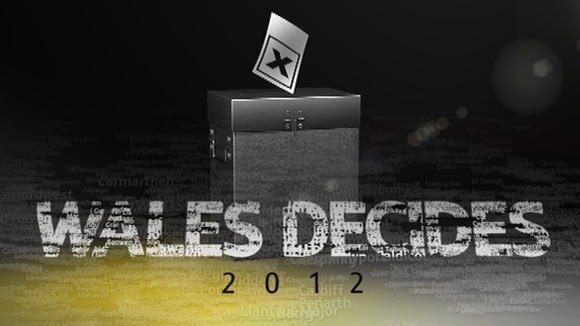 Labour end their local election campaign in Wales confident that they will have much to celebrate after the polls close tomorrow. Gains were always likely if only because the party had such a poor performance four years ago, at the depth of Gordon Brown's unpopularity as Prime Minister. Their initial tactic in this election was to highlight that they are no longer in government at Westminster and urge voters to send a hostile message to the Conservative Liberal Democrat coalition.
During the month long campaign that message has changed a little in the face of questions about just how big a shift in the Chancellor's economic policy they expect in response to a strong Labour showing in Welsh local government. Now Labour say they want to talk about what they can achieve by winning councils but it's the voters who see the election as an opportunity to protest against the Westminster government's policies.
The general tactic of 'let's send Cameron a message and kick the Tories' is obviously working for Labour in their strongholds, I would imagine. But we'll see how it pans out individually in individual places. That's not the impression I get from where I live. But where I live is not everywhere else.
– Plaid Cymru AM Alun Ffred Jones

Plaid Cymru have been keen for it to been a locally fought election. Their national theme is what councils can do to boost the local economy in their area. It is too soon, they argue, for their result to be seen as the voters' verdict on the party's new leader, Leanne Wood. Nevertheless she has has taken a prominent role in the campaign and has not been above urging voters to send a message to the governments in both Cardiff and Westminster.

All the opposition parties have seized on reports that the Welsh government is about to start trying to persuade the public of the need to reorganise hospital services. It will be difficult to demonstrate that no district general hospital will be downgraded when some services are concentrated in specialist centres and others transfered to community treatment.
There is no threat to those hospitals. There never was a threat to those hospitals. We want to make sure that there are centres of excellence because we care about health.
– First Minister Carwyn Jones AM
The Welsh Labour Government has publicly said that it has no plans to downgrade district hospitals, but today's revelations demonstrate that it was actually just cynically delaying plans until after the local elections.
– Welsh Liberal Democrat leader Kirsty Williams AM

The Liberal Democrats' poor opinion poll performance has led to speculation that they could be in for an electoral disaster, though in recent days there has been some evidence that they are no longer the lightening conductor of the Westminster coalition and if David Cameron's government is experiencing mid-term unpopularity, his party can expect to suffer.

The Conservatives began their campaign with a manifesto that concentrated on issues outside local government control. As well as warnings about Labour's plans for Welsh hospitals, there was a pledge to freeze the tolls on the Severn Bridges, which rise annually under a contract that will not run out until around the time of the 2017 local elections. In the final days of the campaign, they have concentrated on calling for a council tax freeze.
A council tax freeze would relieve the burden on hard-pressed families and give them additional income to do with as they please. While families in England are afforded that choice, families in Wales have been unfairly overlooked.
– Conservative AM Janet Finch Saunders

Although local authorities can freeze council tax and some Welsh councils have done so, the Conservatives want the government in Cardiff Bay to impose a freeze across Wales. That's something else that will not be decided by tomorrow's vote.