RNLI rescue
RNLI rescue for Kayakers off Anglesey coast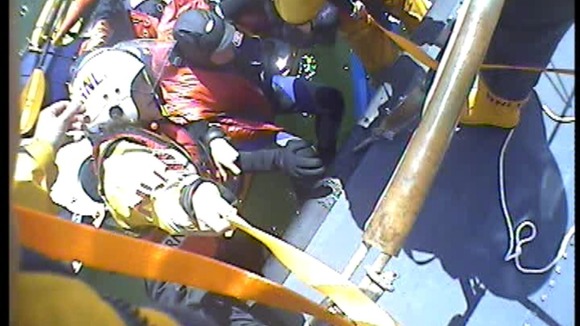 Two kayakers have been rescued off the coast of Anglesey.
The 47 year old woman and a 53 year old man capsized in rough sea near Point Lynas.
Both casualties were recovered by the crew of the Moelfre RNLI lifeboat, where they were medically assessed by the first aid trained volunteer crew.
Emergency first aid and their early treatment certainly contributed to her successful recovery
– Dave Massey, RNLI

The woman had spent around 40 minutes in the sea and was extremely cold and confused. She was airlifted off the deck of the lifeboat by a helicopter from RAF Valley, and transferred to Bangor hospital where she was later discharged following treatment to reverse the effects of hypothermia.

Dave Massey from the RNLI praised the crew saying "They gave emergency first aid and their early treatment certainly contributed to her successful recovery. Both the casualties did have suitable survival equipment, and the volunteer RNLI lifeboat crew wish her a full and speedy recovery.'