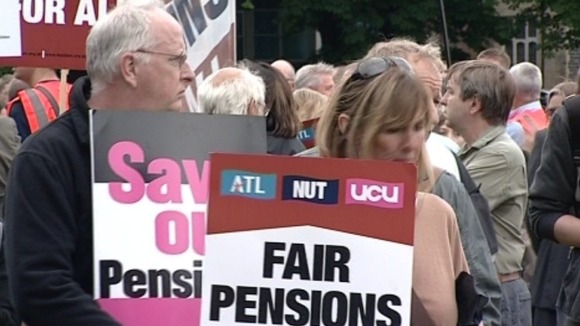 Thirty thousands public sector workers from across Wales are to strike today over planned changes to their pensions.
It is the latest wave of strikes in the ongoing battle with the UK Government over public sector pensions.
Amongst those joining the rallies and picket lines across the country are lecturers, health support workers, civil servants and border agency staff.
Unite NHS members UK wide voted by more than 94 percent to reject their pension proposals claiming what the Government are offering will force them to work longer and pay more to get less.
Unite members working in the NHS will be taking action to defend their livelihoods and pensions from the unfair changes being imposed by the UK government.

The UK government says that public sector pensions are a financial burden that the country can no longer afford. But these changes are ideologically not financially driven.

The NHS pension scheme is in good health and it currently takes in £2billion a year more in contributions than it takes out in benefits.

What we are witnessing is the coalition government trying to cut public sector pensions - on top of already freezing pay - as part of their agenda of economic austerity and to cut back the vital public services that we rely on in Wales."
– Andy Richards, Unite Regional Secretary

In Wales, three unions are behind today's strike.

Involves in the dispute are 20,000 civil and public servants in the Public & Commercial Services union (PCS), 5,000 members of Unite the Union in the NHS and 5,000 staff working in Further and Higher Education, who belong to the University & College Union (UCU).

The unions say the strike has been prompted by the government's continuing refusal to negotiate over three key issues:
a higher pension age
increased contribution payments
a reduction in the value of workers' pensions
There will be picket-lines tomorrow outside hospitals, FE and HE institutions, job-centres, tax offices, Welsh Government offices and many other public sector workplaces.
Health chiefs have warned of possible disruption to healthcare services and while Abertawe Bro Morgannwg Health Board have said it has already put plans in place to minimise disruption to patients it does warn there may be increased waiting times.
Representatives for Abertawe Bro Morgannwg Health Board are urging friends and relatives of patients to bring food and drink to the hospitals, as while medical treatment should not be affected, catering services will be disrupted.
Because of the proposed industtrial action we have to be prepared to operate services with a reduced number of staff

We have therefore been planning how we can continue to provide as many services as possible and maintain the safety of patients in our care.

Based on the information we currently have we plan to run as many services as possible. However, there may be some delays for patients due to a shortage of staff in specific service areas.

We understand the frustration and concerns of our patients and will do everything possible on the day to minimise disruption.
– Debbie Morgan, Abretawe Bro Morgannwg Health Board

While the union's campaign has been boosted by both Welsh Labour and Plaid Cymru, who have said their Assembly members will not cross the picket lines at the Senedd or Government offices, Ministers in Westminster have insisted the current level of public sector pensions is unsustainable and that reforms are needed.
It is very disappointing that a minority of union insist on carrying on with a futile and disruptive strike action which will benefit no one. We would urge union leaders to reconsider their position. Pension talks will not be reopened and members are risking losing a day's pay for nothing.

In March we set out our final proposed agreement on pension reform following more than a year of intensive discussions with trades unions. Our reforms ensure that public sector pensions will remain among the very best available and that they can be sustained for the future."
– Francis Maude, Minister for the Cabinet Office