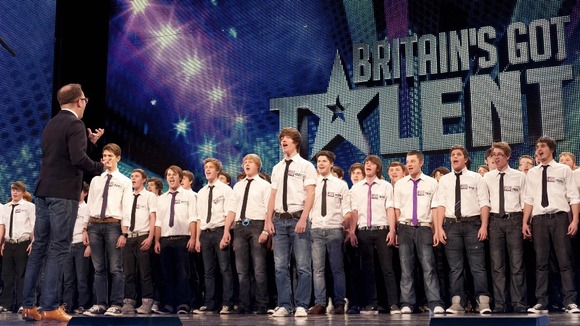 Welsh teenage male voice choir Only Boys Aloud finished third in the final of ITV show Britain's Got Talent, just missing out on a chance to perform for the Queen at the Royal Variety Show. Young Port Talbot dance group Nu Sxool also received great praise from the judges in the final, which was won by dog trick act Ashleigh and Pudsey.
Only Boys Aloud sang the Welsh hmyn Calon Lân, as they had done in their first audition on the talent show. The 133-strong choir made up of teenage boys from around Wales was set up by Only Men Aloud star Tim Rhys-Evans.
If Sebastian Coe or any of the Olympic committee are watching tonight, this is the kind of act that should open the Olympics, because I would be proud of you boys to represent Great Britain across the world. It was incredible.
– Judge Amanda Holden
This is why I love this show because I got emotional listening to a song that I didn't understand a word of it. But I could tell how much it means to every one of you individually. Every single one of you gave it a hundred percent.
– Judge Simon Cowell

Nu Sxool, who are all aged between 10 and 17, earned a standing ovation from the judges for their energetic dance routine. David Walliams said: "I want to be at Nu Sxool." Simon Cowell said: "You are my favourite ever contestants - I love your enthusiasm."