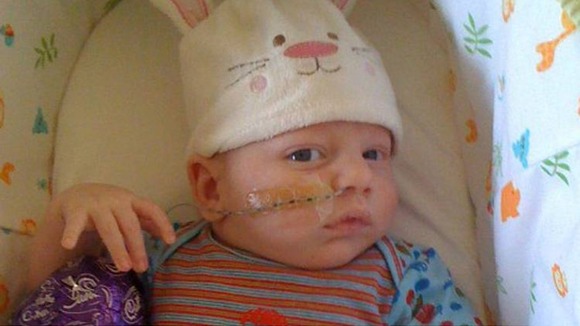 A midwife has confessed to making "catastrophic mistakes" that led to the tragic death of baby boy at a Cardiff hospital. Noah Tyler's family was at Cardiff Coroner's Court to hear how their baby boy died after being deprived of oxygen when he was born at the University hospital of Wales in Cardiff.
Speaking at the inquest Julie Richards said that she would "regret what had happened for the rest of her life."
Noah was left brain damaged and died 10 months after being deprived of oxygen during his birth. Mrs Richards admitted she failed to take the necessary action after noticing that Noah's heart rate was dangerously high.
With hindsight I would have acted differently - I don't know if I looked at the heart scan properly. If I had I would have sent her immediately upstairs to see specialist doctors. The raised heart level could have meant foetal distress but it could have been because the mother was in discomfort. I chose the more innocent option.
– Julie Richards, midwife

Julie Richards, who had 13 years of experience as a midwife, has since been dismissed and the hospital has apologised to the family after the pathologist claimed "baby Noah suffered irreversible brain damage due to lack of blood and oxygen around or during birth." Noah's mother, Colleen, has told the inquest how she kept replaying the birth in her head and was 'tortured' by the memory of it. Noah spent months being treated by specialists at the 1,000-bed hospital. But he showed little signs of progress and he was moved to a children's hospital where he died on December 23 at the age of 10 months. Mrs Tyler and her husband, from Caerphilly, are suing the University hospital of Wales in Cardiff for negligence. The inquest, which is due to last two days, is continuing.
What I remember is not hearing anything after Noah was born, because I remember from antenatal classes that I was supposed to hear a cry. I said to Hywel to go with Noah and I was just left there alone, not knowing what was going on. I was in a complete state of shock and did not believe that this was happening. I expected to be holding Noah by now. Nothing could have prepared me for what I saw next. There was this little thing lying in an incubator with lots of tubes going in. I have never stopped reliving my labour, I am torturing myself to know whether I could have done something different to save Noah. This just goes on and on.
– Colleen Tyler, Noah's mother