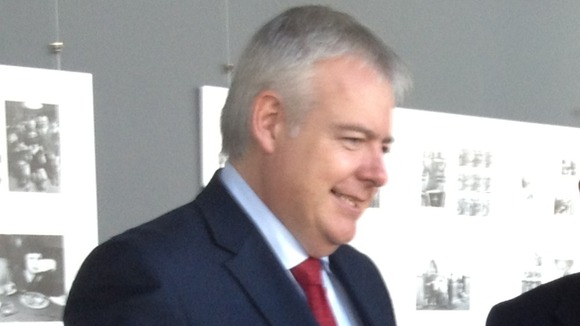 First Minister Carwyn Jones is in London this morning to raise his concern that welfare reforms aimed at encouraging benefit claimants to look for work will cause poverty that will hit Wales harder than any other part of the UK. Social security is not devolved but the First Minister argues that his government will have to deal with many of the consequences of the reforms.
We have consistently made the Welsh Government's position clear - we feel Wales will be hit disproportionately compared to the rest of the UK by the welfare reforms currently on the table. The principle of welfare reform is fine as long as it provides genuine support to individuals to help them find and keep work. But the current proposals will really hit parts of Wales.
– Carwyn Jones AM, First Minister

The UK government regularly meets ministers from the Welsh, Scottish and Northern Irish governments to discuss such disagreements. The Joint Ministerial Committee, as it's known, is usually chaired by the Deputy Prime Minister, Nick Clegg. Although today's talks are highly unlikely to change the UK government's position, they will form part of the Welsh Government's ongoing argument that it should be compensated for the financial consequences.
We have grave concerns about these proposals and that's why we've established a top-level Ministerial group to examine the impact of the welfare reforms on Wales and how we can protect the most vulnerable in our society. A comprehensive assessment of the impact of the reforms is already underway so we are able to see a true picture of what these changes will mean for communities across Wales.
– Leighton Andrews AM, Education Minister

The Welsh government points to analysis from the Institute for Fiscal Studies which suggests that tax and benefit changes will leave the average Welsh household 4.1% worse off by April 2014, compared with April 2010, a real terms drop in income of £1,110 a year. The figure for the UK as a whole is £1,170 but that only represents a 3.8% drop in income.

The UK government's argument is that people living on benefits but capable of work should be encouraged to move off welfare. In particular, single parents face 'significantly strengthened financial work incentives'. Only this week, single parents of five and six year old children have been switched from income support to jobseeker's allowance.
We know that work is the best route out of poverty, so we are determined to help more lone parents take their first steps into work. Rather than being trapped on benefits, lone parents with younger children will now have additional access to the help and support they need to move closer to employment. Getting a good balance between work and family responsibilities is important for every parent. Jobcentre Plus advisors will actively support lone parents with things like child care and part time jobs so that they can get that balance right too.
– Maria Miller MP, Work and Pensions Minister

The charity Gingerbread estimates that more than 6,000 Welsh single parents are affected. It argues that a change meant to encourage them to find work will actually make it harder for them to get a job. Gingerbread argues that single parents often need to take a further education course when their children start school.
Thousands of single parents have lost the chance to plan ahead and skill up to improve their chances of getting a decent job. Without qualifications they risk remaining trapped in a cycle of low-paid work and unemployment benefits. This Government needs to take a longer term approach and allow single parents starting Further Education training to complete their course before seeking a job.
– Fiona Weir, Gingerbread Chief Executive

Another area of dispute is the devolution of council tax benefit. The Welsh government says it will not be able to find the money to meet any shortfall caused by more people falling into poverty and becoming eligible for the benefit. It has rejected calls from Plaid Cymru to guarantee that the benefit will be maintained in Wales.