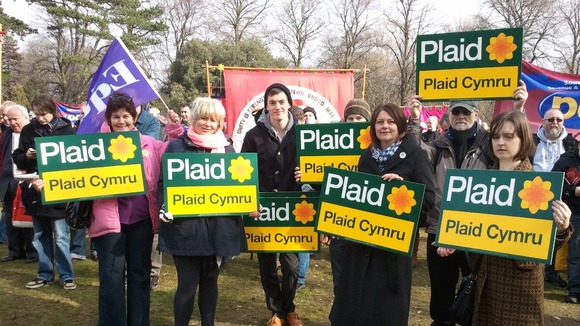 There's been a angry response from Plaid Cymru's trade union section, Undeb, to remarks made by the Welsh Secretary of Unite during a Sharp End report on the Wales TUC conference. The comments by Andy Richards seemed to shed some light on why the Labour party felt able to describe as 'vicious', Plaid Cymru's call for a united front against public spending cuts.
Plaid have attacked Unite the Union in Wales by trying to entice our members not to pay the political levy. A political levy that is used for international political campaigning, such as in Colombia. So that really doesn't convince us that Plaid are as trade union friendly as they would make out. They've got a long way to go before we'll consider any sort of alliance with them.
– Unite Welsh Secretary Andy Richards

The secretary of Plaid Cymru's trade union section, Undeb, claims that this accusation is offensive. Ian Titherington says Plaid encourages trade union members to pay into a general political fund but not to pay for their union to affiliate to the Labour party.
Plaid have most certainly discouraged trade union members from affiliating to the Labour party, particularly when they spend so much time stabbing trade unions in the back. However, we have never encouraged trade unionists into opting out of the general political fund. We actually encourage [signing up to] it.
– Plaid Cymru trade union section secretary Ian Titherington

A Unite spokesperson stood by Andy Richards' criticism of Plaid Cymru, saying that whether political funding was spent on Labour party affiliation and how much was spent on other political purposes was a matter for the union's executive. He said the law did not distinguish between two kinds of political fund.