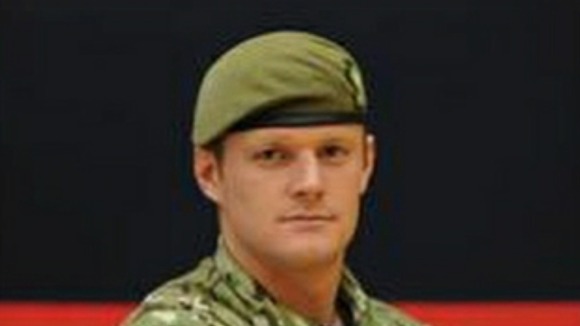 A soldier from 1st Battalion, The Royal Welsh, killed in Afghanistan on Saturday has been named as Captain Stephen Healey from Cardiff. The Ministry of Defence says the 29-year-old was on a patrol in Helmand Province when the vehicle in which he was travelling was caught in a bomb blast. He was flown to the military hospital at Camp Bastion, where his death was confirmed.
Stephen was all you could wish for in a son, brother, uncle and friend. He will be sadly missed by us all. He managed to do more in his 30 years than most people do in a lifetime.
– Captain Healey's family

Captain Healey became a semi-professional football player after leaving school, playing for clubs in South Wales and enjoying an apprenticeship at Swansea City. He completed a degree in Sports Science at Swansea University, before joining the army in 2007. He was commissioned into 1st Battalion, the Royal Welsh, in 2008.

In 2011, he was selected to command the renaissance platoon and led their deployment in Afghanistan in March 2012. Three weeks before that, he organised and took part in a blindfolded walk between Chester and Llandudno to raise money for Blind Veterans UK.
Captain Stephen Healey will be remembered by the Officers and Soldiers of 1st Battalion The Royal Welsh as one of the most charismatic and professional leaders any of us will have had the privilege of serving with. His loss will be deeply felt by all those who had the privilege of serving alongside him. I am acutely aware that our loss is nothing compared to that of his family and his girlfriend, Thea. Our thoughts and prayers are with them at this extremely difficult time.
– Lieutenant Colonel Stephen Webb MC, Commanding Officer, 1st Battalion, The Royal Welsh