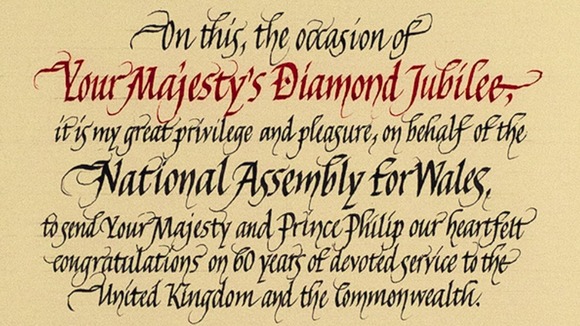 AMs have congratulated the Queen on her Diamond Jubilee. A government motion in the Senedd paid tribute to her 'steadfast support for Wales over the last 60 years'. The Presiding Officer had already released the text of a message she is sending to the Queen on behalf of the Assembly, saying that AMs look forward 'to the continuing pleasure of being Your Majesty's subjects'.
On this, the occasion of Your Majesty's Diamond Jubilee, it is my great privilege and pleasure, on behalf of the National Assembly for Wales, to send Your Majesty and Prince Philip our heartfelt congratulations on 60 years of devoted service to the United Kingdom and to the Commonwealth.

It was less than a year ago that Your Majesty visited the Senedd in Cardiff in order to open the Fourth National Assembly for Wales. On that occasion Your Majesty referred to the evolutionary development of the Assembly's powers and responsibilities, amounting to a transformation of our role since Your Majesty opened the First Assembly in May 1999.

In that relatively short period of time, the Assembly has grown rapidly in confidence and maturity. Even greater has been the growth in confidence and maturity of Wales as a whole during the 60 years of Your Majesty's reign. Your Majesty's wisdom and devotion have provided the bedrock on which sustainable democratic institutions have been established and developed not only here in Wales and in other parts of the United Kingdombut also throughout the Commonwealth.

We look forward to enjoying, for many years to come, the continuing pleasure of being Your Majesty's loyal subjects.

I have the honour to be, Madam, Your Majesty's humble and obedient servant.
– National Assembly Presiding Officer Rosemary Butler AM

The message has been inscribed on a special scroll as a diamond jubilee gift to the Queen. A copy made by the artist will be displayed in the Senedd. Although some Assembly Members are republicans, they have all sworn an oath of loyalty to the Queen (or made an affirmation) as a condition of taking their seats in the Senedd.

In the debate, the most prominent republican, Plaid Cymru's leader Leanne Wood, thanked the First Minister for the opportunity to highlight the contribution of not just one person but an entire generation. She noted that the Queen was born in 1926, the year of the General Strike.