Labour AMs' anger at MP colleague's protest
by Adrian Masters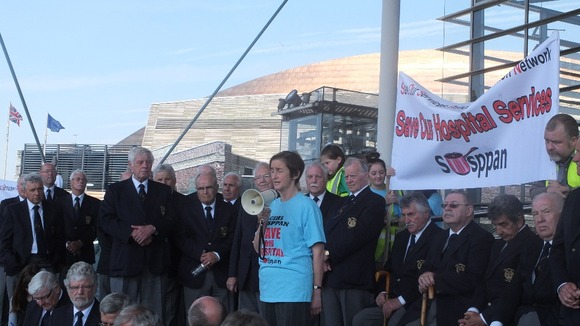 I understand that there's been a great deal of anger from Labour Assembly Members about the conduct of the Shadow Wales Office minister, Nia Griffith at a protest against hospital shake-up plans last week.
At Labour's Assembly group meeting yesterday, some backbenchers and a number of ministers were said to have made it clear that they were 'horrified' by the Llanelli MP not only joining the demonstration by campaigners worried about the future of Prince Philip hospital, but also addressing the crowd from the steps of the Senedd and wearing a T-shirt emblazoned with the slogan 'Save Our Hospital.'
There's more detail about the protest here. This is one of a number of controversies about the way hospital services are provided in the future. The Welsh Government has repeatedly said that no decisions have yet been made and that no changes would be introduced which would compromise patient safety.
Ms Griffith wouldn't comment when I spoke to her earlier, but I gather her view was that the protest was directed against Hywel Dda Health Board and not the Welsh Government.
That explanation didn't satisfy many of the Labour AMs who felt that her actions risked undermining Welsh Government efforts to reassure patients that the plans won't lead to downgrading or closure for district general hospitals or A&E departments. They made those feelings clear at the group meeting.
I'm told the First Minister shared their anger and spoke both to Ms Griffith and the new Shadow Welsh Secretary Owen Smith by phone.
A spokesman for Carwyn Jones would only say that 'the First Minister speaks to MPs on a regular basis.'
Shadow Welsh Secretary Owen Smith confirmed that Ms Griffith had a phone conversation with Carwyn Jones - he said she'd called the First Minister to discuss the issue. I asked Mr Smith if he'd reprimanded his deputy. He said 'Nothing like that,' adding that:
It is important to strike the right balance between representing our communities and acknowledging that we are in government in Wales and making difficult decisions. I've made sure that Nia understands that and we move on.
Mr Smith also insists that the incident won't affect the close working relationship which has developed between Welsh Labour AMs and MPs.
But it's certainly something Labour's opponents are seizing upon. In the Senedd last week, Plaid Cymru's Simon Thomas highlighted the presence of Labour placards at the demonstration:
We often hear the First Minister, Carwyn Jones call those campaigning to retain services at Prince Philip Hospital as scaremongers. It was not only Plaid campaigners who attended the event today but members of the First Minister's own party. It is important to remember that it is Labour who is responsible for the health service.