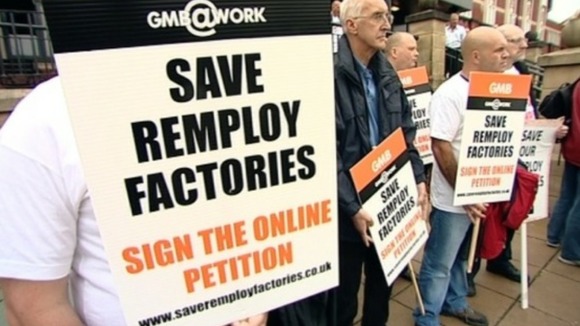 Two hundred Remploy workers are expected to march in Cardiff today in an ongoing fight to save their jobs.
Remploy operations are designed to help disabled people find work, but in March it was announced that seven of the nine Remploy factories in Wales could close - putting nearly 300 jobs at risk.
Unite Wales and the GMB will march with members through the city centre to a joint rally at City Hall to make their feelings known.
Unite and the GMB deplore the actions of the UK government on Remploy, which see them once again hitting the most vulnerable workers hardest.

In contrast we welcome the Welsh Government's support and are committed to working with them where we can to find a solution that ensures a fairer future for Remploy.
– Unite Wales Secretary Andy Richards

The factories at risk under the plans are:
Aberdare
Abertillery
Bridgend
Croespenmaen
Merthyr Tydfil
Swansea
Wrexham
The UK Government vehemently denies that it's a cost-cutting measure, saying the aim is to get more people into mainstream work.
Ministers say 'non-viable' Remploy factories should close and the money re-invested into other schemes to help disabled people find employment.
Dean Thomas reports.