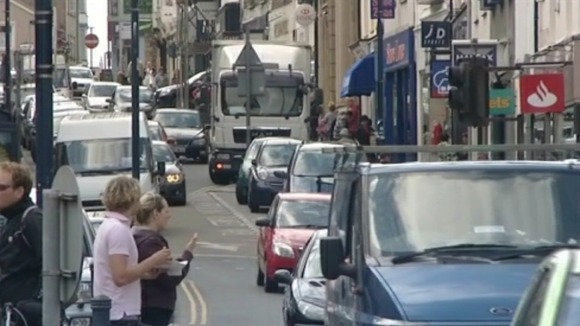 Ceredigion's parking free-for-all has come to an end. From today, traffic wardens will be back patrolling the county's streets after a twelve-month gap.
Dyfed-Powys Police withdrew its wardens last year before the county council could sort out a replacement system. It has meant motorists effectively parking wherever they liked with the police only intervening if vehicles were causing an obstruction.
The situation has been particularly bad in Aberystwyth.The town made national headlines after reports of road rage when motorists found their routes blocked by inconsiderate parking.
I don't think it's done the town well reputation-wise because it's been complete chaos for a year since the traffic wardens were removed. And it just shows that if there's no-one enforcing laws, just how anarchy will reign really, because people have just parked dangerously, selfishly, wherever they've wanted to - and it's caused real problems for people getting into the town.
– Bev Thomas, Managing Editor, Cambrian News

There have also been complaints from bus companies that inconsiderate parking has blocked routes and many disabled people say they have been unable to use their reserved bays because they have been occupied by able-bodied drivers.

The local paper, Cambrian News, has run a campaign called 'Streets of Shame' with pictures of the worst offenders parking on pavements and yellow lines.

The council's new Civil Parking Enforcement Team is made up of a supervisor and six full time officers. They will parking tickets for infringements on the streets and in council-run car parks.