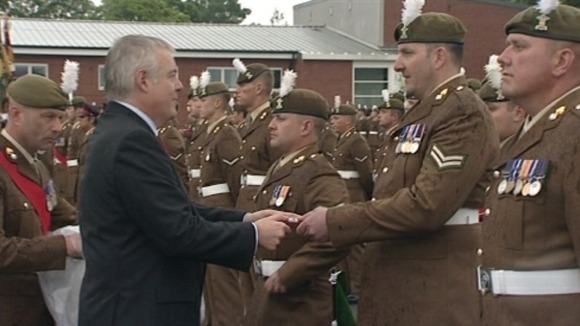 The First Minister has presented special Diamond Jubilee medals to members of the 2nd Battalion, the Royal Welsh. Carwyn Jones AM visited the troops at Lucknow Barracks in Wiltshire.
The medals have been issued on behalf of the Queen to honour dedication and service, as part of the celebrations for her 60 years on the throne.
The Queen has dedicated her life to the service of the country and the Diamond Jubilee offers us all an opportunity to celebrate her commitment over the last sixty years. It is right that those who also dedicate their lives to public service are recognised and I am extremely pleased to be able to present these Diamond Jubilee Medals to the Royal Welsh.We all owe an immense debt of gratitude to our armed forces and we have a responsibility to ensure that we show them how much we appreciate what they do on our behalf. I hope that this medal will serve as a mark of thanks to all those who give so much in the name of society and public service.
– Carwyn Jones AM, First Minister

The 2nd Battalion, the Royal Welsh, returned from a tour in Iraq in December 2007, and conducted operations in Afghanistan between July 2010 and February 2011.