Vintage vehicles gather for Barry Festival of Transport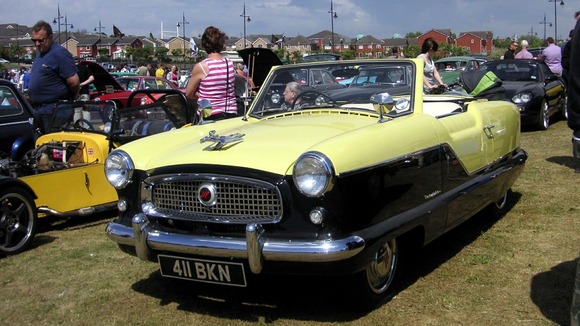 Riley Kestrel, Triumph Herald, Chevrolet... all freely available to the public today in Barry.
Alas, they're for viewing only - just some of the 150 lovingly restored classic cars on display at this year's Barry Festival of Transport.
Despite the summer storms that have battered Wales this week, organisers are hoping to avoid a repeat of last year's rain-soaked event.
Instead they're keeping their fingers crossed for the sun to shine on today's display, which will include automobiles from both British and American manufacturers.
There will be at least nine cars from the 1930s; plus sports cars, and family and luxury saloons.
Different models and makes remind you of classic film stars or songs. They are all lovingly restored and many of the car-owners bring their families along so it's also a great social gathering.
– Mike Taylor, Chairman of the festival organisers

The cars will be joined by a few commercial vehicles, motorbikes and vintage Welsh buses – a throwback to the golden age of travel where boarding public transport was considered a true pleasure.

Older visitors might remember the 47-year-old Caerphilly half-cab, low-bridge, green and cream double-decker bus that has recently been restored.

For those who aren't passionate about vintage vehicles, the Barry Tourist Railway will be operating and there will be free local bus rides to the wider area.

The event is organised by the Cardiff Transport Preservation Group, which was founded 20 years ago by a small group of bus enthusiasts.

Today the group has over 100 members, who hold regular meetings and vehicle restoration days throughout the year.

_Entry to the festival is free. _