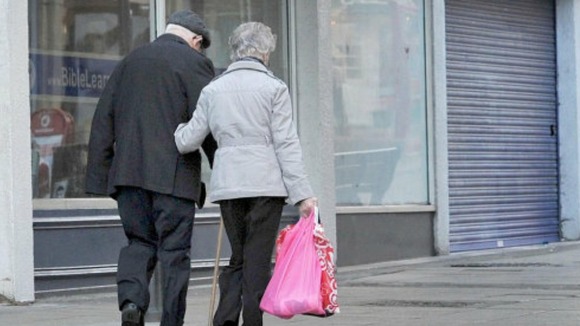 It's estimated that up to 5,000 grandparents in Wales permanently give up work to care for their grandchildren. The research was done by the charity Grandparents Plus.
'Giving Up the Day Job?' shows how grandparents and other family carers who were previously working gave up their jobs to care for children. The young people would otherwise be in local authority care had their relative not stepped in, as their parents are unable to care for them, for a number of reasons from death to violence or imprisonment.
The study found:
47% of grandparents who were previously working gave up their job when children moved in
41% of them are now reliant on welfare benefits
83% want to stay in work
13% manage to find their way back into a job
The report also highlights that working age grandparents are not entitled to paid leave from work when children move in and most can't take unpaid parental leave.
Grandparents and other relatives do the right thing for their families, stepping in to care for vulnerable children. Yet they are driven to give up their jobs because they are not entitled to parental leave, even though they are acting as the child's parent. It makes absolutely no sense for the carer or for the taxpayer for them to give up work unnecessarily and be forced into a lifetime on benefits as a result.
– Sam Smethers, Chief Executive of Grandparents Plus

60,000 grandparents across the UK have dropped out of the labour market to bring up their grandchildren. That amounts to 9,000 per year, or 25 every day.
We want to see access to unpaid parental leave, and the introduction of a period of paid leave for grandparents and family carers, similar to maternity, paternity or adoption leave, when they take on responsibility for bringing up a child. We also want the Government to deliver on their promise of flexibility in the workplace for all employees. This will help carers stay in work.
– Sam Smethers, Chief Executive of Grandparents Plus

A group will protest at Westminster this afternoon to try to draw attention to the plight of grandparents who take on the work of carers.

A spokesperson for the Department of Business, Industry & Skills said:
The Government is committed to family friendly policies as set out inthe Coalition Agreement. Last year we consulted on extending the rightto request flexible working to all employees and creating a system offlexible parental leave. Extending the right to request flexible workingwill enable many more employees to balance their work and familycommitments, including grandparents.

We will publish the Government response to the consultation in due course. It is important though that we strike the right balance between needs of employers and employees, especially in the current challenging economic climate.

We have one of the best and most flexible labour markets in the world that is well positioned to meet and respond to the modern demands of family lifewhilst remaining dynamic and responsive to the modern economy.