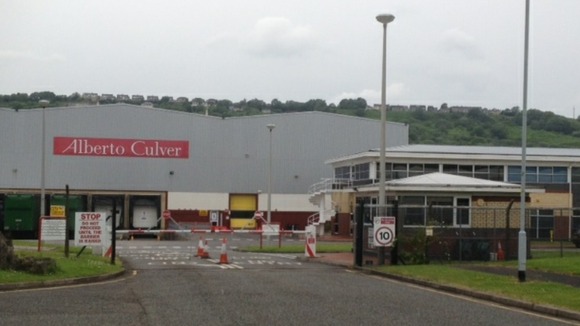 Consumer goods giant Unilever is proposing to close a number of sites with the loss of up to 800 jobs, while investing £40 million in its biggest UK factory, the firm has announced.
The plans involve the closure of factories in Swansea and Slough and a distribution site in Bridgend.
The Unilever office in Ewloe also looks set to close and the work transferred.
The proposals however include plans to invest £40 million in Port Sunlight, its biggest UK factory, on the Wirral, Merseyside, with the creation of 150 new jobs.
The proposed changes, to take effect by the end of 2013, could lead to 500 direct job losses and around 300 contractor and third party jobs.
Some jobs will also be outsourced to Unilever's IT centre in Bangalore, India.
Unilever has cited 'tough economic conditions' as a factor in today's proposals.
In a statement, the company said it would 'always be necessary' to make changes in order to grow and compete in the current climate.
The proposals announced today will be reviewed thoroughly and the outcome shared with our employees as early as possible. However, we understand that this period of uncertainty will cause concern for some of our employees who would be affected if changes were to be made, so we are fully committed to conducting all review and consultation processes properly and responsibly in order to provide clarity and certainty as soon as possible.
– Amanda Sourry, Chairman of Unilever UK and Ireland

The Welsh Government has responded to the announcement to cut up to 450 jobs in Wales, saying it's 'very disappointing'.

Government officials say they have met Unilever executives to discuss the impact of the proposals and what help could be given, but the decision to close stands.
Today's announcement will be a devastating blow for Unilever's workforce and their families in Wales. We asked the company to fully consider the range of support offered to businesses by the Welsh Government and invited them to work together with us to implement a more sustainable solution for Wales by seeking to maintain current operations at its Welsh sites. The proposals for Ewloe, Swansea and Bridgend are therefore very disappointing but we are hopeful Unilever can offer future opportunities for some of its north Wales workers through investment at its site at Port Sunlight in Merseyside.
– Edwina Hart AM, Business Minister

The Shadow Secretary of State for Wales Owen Smith MP has also spoken out over Unilever's proposed job reductions in Wales.
This is obviously grave news for Wales and for Swansea in particular. The city has already been hard hit by public sector job losses and the closure of the Unilever plant, if it takes place, would be a further blow. I spoke this morning to Unilever and impressed upon them the value of these jobs in Wales and urged them to use the three month review period to consider all options. I have also spoken to Ministers in the Welsh Assembly and know that they have already pledged to support Unilever in reviewing matters and to work with them to mitigate as best they can the effect on Unilever workers.
– Owen Smith MP, Shadow Welsh Secretary

ITV Wales Business Correspondent Carole Green has spent the day outside the Unilever factory in Swansea.