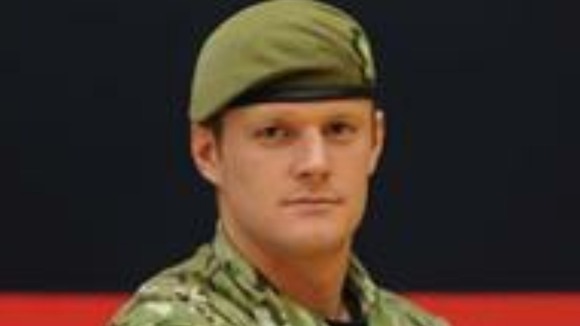 The funeral of Captain Stephen Healey, 1st Battalion The Royal Welsh (Royal Welch Fusiliers) has take place at St Cadoc's R C Church in Rumney.
Capt Healey was killed in Afghanistan on Saturday, May 26, after his vehicle struck an improvised explosive device while conducting a vehicle patrol in the north of the Nahr-e-Saraj district of Helmand province.
Capt Healey was born in Cardiff on September 19th 1982. On leaving school he became a semi-professional footballer; playing for a number of clubs in the South Wales area including an apprenticeship with Swansea City. He continued to play whilst completing a degree in Sports Science at Swansea University.
He joined the Army in May, 2007, and was commissioned into 1st Battalion The Royal Welsh in 2008.
In 2009 he was awarded a Mention in Dispatches for his actions on Op HERRICK 11 as the Officer Commanding 4 Platoon, B Company. In 2011 he was selected to command the reconnaissance platoon and led their Op HERRICK 16 deployment.
He deployed to Afghanistan on 9 March 2012, where he took over responsibility at Checkpoint Langar as part of Combined Force Burma.
Stephen was all you could wish for in a son, brother, uncle and friend. He will be sadly missed by us all. He managed to do more in his 30 years than most people do in a lifetime.
– Captain Healey's family
Stephen will always be in my heart. I will miss him so much, he was my love, my life and my everything. Now he rests in peace, he was living the life he wanted to do with his men.
– Thea, Captain Healey's girlfriend
Captain Stephen Healey will be remembered by the officers and soldiers of 1st Battalion The Royal Welsh as one of the most charismatic and professional leaders any of us will have had the privilege of serving with. He was a brilliant Army Officer and a truly outstanding individual. As the Recce Platoon Commander he cared deeply for his soldiers and they, in return, loved and respected him.
– Lieutenant Colonel Stephen Webb, Commanding Officer, 1st Battalion The Royal Welsh

The funeral service will be held with full military honours and will be followed by an internment at a cemetery. The firing party will then fire off shots as a salute to Captain Healey.