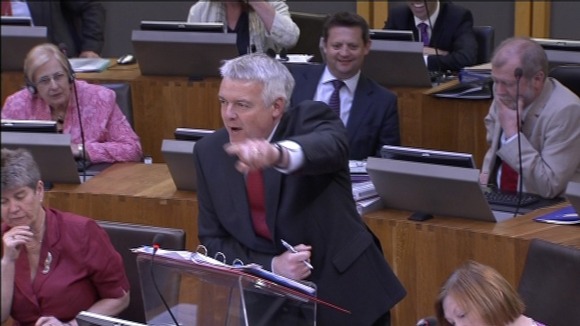 It was just like listening to a home make over programme with all the talk of floors and ceilings at FMQ's in plenary today. Thanks to Plaid Cymru Leader, Leanne Wood AM, who was very preoccupied with matters of financial architecture. It all started earlier in the day at Plaid's presser. All she could talk about was the Barnett Floor this and the Barnett Ceiling that. Clearly worried about the prospect of subsidence.
By the time plenary was underway, she had mulled over possible disaster scenarios and trailing swatches of statistics was eager to ask the FM for reassurance that the Floor wasn't going to sink any lower. Or indeed that the ultimate calamity didn't happen that the Barnett floor become a Barnett ceiling! Was the whole shebang about to fall apart?
The FM had this to say:
Wales is underfunded and it is absolutely crucial that we get a Barnett floor at the very beginning to ensure that further convergence doesn't occur by the end of the decade. And of course, the full Barmett reform is inevitable in the short to medium term
– Carwyn Jones AM First Minister

Leanne, though, was still worried and the FM's best advice was that she should talk to her SNP colleagues in Scotland who he cautioned were not as anxious as she about the floors or indeed the ceilings and see if she could persuade them of the Welsh case.

Andrew RT Davies, the leader of the opposition, was next up with questions about education.

This week he was very worried that school inspectors Estyn had reported that forty percent of youngsters couldn't read properly by the time they went to secondary school. He chided the FM that despite this alarming statistic was it not the case that Labour had run out of ideas when it came to education?

Stung to the quick, Carwyn Jones took the weight off his elbow to retort :
We prize Education! More than any other party ! I have to say I was amused to hear that the Tory press conference this morning described my Government as the Mañana Government. I think that it would be unfair to use that term to describe the leader of the opposition because such a term would describe too great a sense of urgency when it came to his leadership.
– Carwyn Jones AM, First Minister

And then came the leader of the Welsh Liberal Democrats, Kirsty Williams AM. Due to the brevity of the FM's answers, Kirsty gave the impression that she was bobbing a curtsey as she attempted to sit down before her next query. Her query this week was what happened when allegations of wrong doing were made against any of his cabinet colleagues? Who judges when cabinet members have breached the Ministerial code? To which the FM said that it was a matter for him!

Fearing that he had missed the point, Kirsty kindly tried to explain the question in a different way. Trying to lead him away from shaky ground she asked if he might commit to an independent advisor on the Ministerial code as every other level of Government has done? Boy, there's no helping some people. The FM stuck to his guns:
I always take advice if a complaint is made about a Minister but ultimately they are responsible to me and I am responsible to the people of Wales.
– Carwyn Jones AM First Minister

I wonder who they were thinking of? I know! It was that poor Alun Davies! He's a Minister and there was a lot of tut tutting when his phone went off during the plenary. They've fined him five pounds you know!