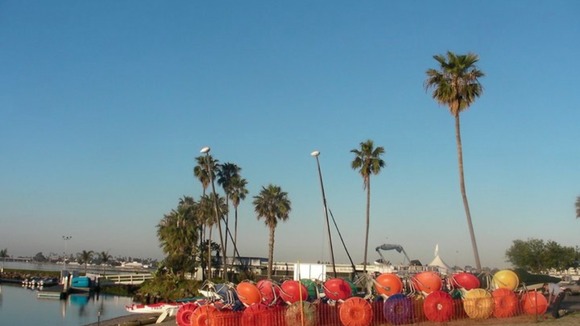 Well, man, what a collection of topics at FMQ's today. Inward investment, Trident, Argentina, weapons of mass destruction, Greenham Common, Martin McGuiness and that handshake plus apparently there's a job going in California! They were all thrown into the mix as the leaders each took their turn to quiz the man at the lecturn.
Starting with Andrew RT Davies, his cares and woes this week centred on Wales success or lack of it, in terms of inward investment and what was being done to boost Wales as a tourist destination to the rest of the world.He quizzed the First Minister on what was the latest on a Wales - China airlink and why was it that we had business representatives on the East coast of America, but there was no one to promote Wales on the West Coast. Like we've got no Man in California. Whoo! Uncool!
California's great, dude! They got beaches, the sun, research centres, more sun and like Silicon Valleyman. So what's happening? Huh?
Hey FM dude, what's the plan ?
I'm looking at placing someone in California working to represent Wales in the Western parts of the States. The leader of the opposition is quite right, we need proper coverage in the US and it will be dealt with pretty quickly.
– Carwyn Jones AM First Minister

Sun, sand, high tech, laid back! Expect a stampede when the job is advertised.

Next up was the leader of the Welsh Liberal Democrats, Kirsty Williams. She was concerned that at one stage in the past ten years, Wales attracted the highest amount of investment of any region or nation in the UK with latest figures now putting Wales at the bottom of the league table. And she wanted to know what has happened in the last decade to cause Wales to go from the very best to the worst?

Well, the FM did all he could to explain that he had taken steps to address proper representation overseas as well as working closely with UKTI (the UK Government's overseas investment arm) and pointed to some major successes such as attracting 800 million pounds worth of investment from Tata Steel, as well as investment from T.E.S in his own constituency to name but some of the plans he had been working on.

But Kirsty Williams was right back at him saying that the steps he had taken were clearly not working. It seems that foreign direct investment in terms of its share of UK projects had fallen to 1.3 percent last year but had been as high as 9 percent in 2003.

Carwyn Jones gave a small rueful smile and said:
The leader of the Liberal Democrats chose to ignore what I just said about Tata and companies likeT.E.S. The reality is we are successful in attracting overseas investment and we intend to be more successful in the future.Thats why we are ensuring our office in London will be a hub for potential investors in future and during the Olympics. An office that the UK Government opposed.
– Carwyn Jones AM First Minister

But, perhaps the most sparky interaction of the day came between the FM and the leader of Plaid Cymru, Leanne Wood. And without much pause for breath we were back to Greenham Common, ban the bomb and the fact that it was over three decades ago that Wales had pronounced itself a nuclear free zone. Yes, you've got it! Trident was back on the agenda and the row was over the FM's kind offer to allow nuclear subs to base themselves in the waters of Milford Haven, if Scotland didn't want them or the six thousand jobs that went with them.

Leanne Wood was quick to claim that there are already some 1200 people employed in refineries, and the LNG terminals at Milford Haven. More jobs she said than the 1109 people that are actually employed due to Trident in Scotland, a far cry from the 6000 that she says were stated previously by the FM. Leanne wanted to know how many of the current jobs would be lost if a nuclear submarine base was relocated to a base in West Wales.

The reply from Carywn Jones did little to pour oil on troubled waters:
Its clear from the UK Government that the fleet will remain at Faslane. So the question is academic. But there are issues that the leader of Plaid Cymru needs to clarify for the people of Wales. Does she agree with her colleague Bethan Jenkins that Martin McGuiness is naive in shaking the Queen's hand. Secondly, the leader of her parliamentary party Elfyn Llwyd met with Argentinian diplomats. I accept his explanation why he met with them but does she support the right of the people of the Falkland Isles to self determination?

She raises issues of defence, but its issues in Plaid Cymru that people in Wales want clarification of.
– Carwyn Jones AM First Minister

And the spat continued:
The biggest concern in values is your values. Its 31 years since Wales declared itself nuclear weapons free country. 31 years ago, women from this country including your Jane Hutt marched to Greenham Common. The majority of people in Wales don't agree with you. They say weapons of mass destruction have no lace on Welsh soil. First Minister you are meant to speak for Wales, but isn't it true on this occasion, you speak for yourself?
– Leanne Wood AM , Leader of Plaid Cymru

So, what's California like at this time of year? Maybe we all need a holiday?