Plaid Cymru renews its call for a separate legal jurisdiction for Wales
by Lynn Courtney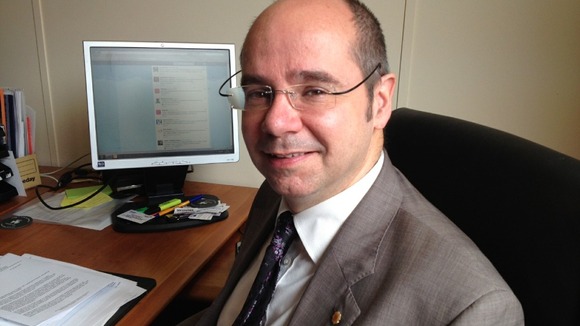 In the party's press conference this morning , Plaid's Simon Thomas AM again visited the subject of a separate legal system for Wales. He pointed out that in his view the creation of a separate legal jurisdiction would be a driver for the Welsh Economy and said that it would lead to a new career structure for our legal graduates and more jobs for the Welsh Economy.
His evidence for this case , was the example of Northern Ireland where he claims sixteen thousand jobs are underpinned by their independent justice system.
The creation of a distinct legal jurisdiction could be a real economic driver for Wales. There are real material benefits to developing a Welsh Legal system of our own. Not just the fact that power will be closer to the people but that the supply of skilled jobs in the legal profession will increase. it will mean more opportunities to keep our talented young graduates in Wales. So this is also about being ambitious for our nation and seeing the legal arena as part of the economy not just as a consitutional issue.
– SIMON THOMAS AM, PLAID CYMRU

Mr Thomas went on to argue that it is inevitable that a distinct legal jurisdiction for Wales will develop eventually as distinct laws emerge. He said that something of such fundamental importance should not be left to develop on an ad hoc basis but should be properly planned and designed:
As distinct laws in England and Wales are created it is inevitable that legal jurisdictions will be created eventually. The question we have to ask now is whether we want to grasp the nettle and proactively work towards the goal of a distinct legal jurisdiction or do we want to just leave it to devolve in an ad hoc matter.
– Simon Thomas AM , PLAID CYMRU

But thats not the only question being asked. Lord Morris of Aberavon who was the former Attorney General under Tony Blair has been querying just how much it might cost to set up such a separate system?

Lord Morris, in giving evidence yesterday to a committee of AM's examining this very issue, opined that a separate legal system would not only be costly but should not even be a priority.
I emphasise, while I yield to no one in my enthusiasm to develop and build on devolution, such a proposal is not my priority at present. Who is to know what the future will demand? Hence I keep an open mind. What is clear is that an independent legal jurisdiction is not a Govermental activity.
– LORD MORRIS OF ABERAVON

Later today , this afternoon's plenary session at the Assembly will be given a statement by the Counsel General, Theodore Huckle on access to Welsh Laws and developing a Welsh statute book. It will be a timely update given the interest this subject is generating.