Wheelchair rugby star looks to London
by Richard Morgan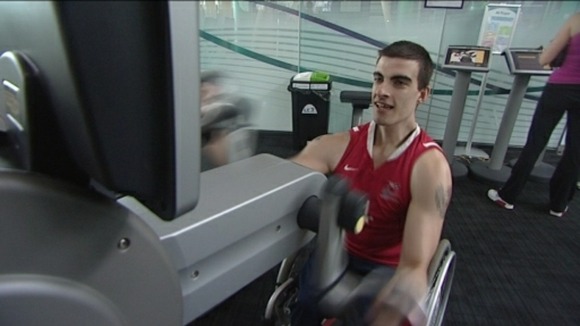 Rugby has a reputation for being rough and rugged, and the wheelchair version of the game is no different. Just ask David Anthony, the 21 year old Welshman who has just been named in the GB squad to compete at the Paralympics.
I love smashing people up. Hitting people on the floor is the best thing ever. You get quite a buzz off it. And it's a message to the opposition teams as well.
– David Anthony

David, from Neath, tried his hand at Skiing and Boccia before taking up the game, and he hasn't turned back. He joined local club the Cardiff Pirates before graduating to full international honours. A keen rugby fan, there's one Welsh star in particular he likes to base his game on.
Shane Williams, definitely. He's exactly like me. Waits for the ball on the wings and just goes for it. Tries to do a bit of dodging, a bit of weaving, and tries to score. That's exactly what I do in rugby. You'll always see me hanging out on the side in the corner out of the way, waiting for the ball and then - 'bang' - straight in."
– David Anthony

As the only Welshman in the eleven strong squad - which also includes a female athlete - there's no shortage of banter between David and his team mates. But come the end of August there'll all be united by a single goal - securing gold in London.