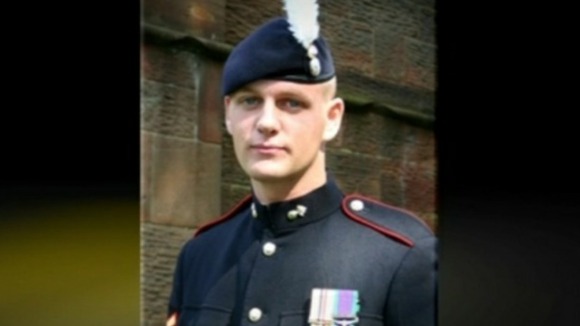 Comrades of a Royal Welsh soldier were refused service at a Coventry bar before his funeral - because they were wearing their military uniforms.
Family and friends of Corporal Michael Thacker, who was killed in Afghanistan this month, had tried to purchase tea and coffee at Browns bar in Jordan Well on Monday.
The group included Corporal Thacker's brother Matthew, along with colleagues acting as pall-bearers during the service at the city's cathedral.
They said they had been rehearsing their duties that morning and wanted to take a short refreshment break before the ceremony itself, adding that they had not wished to buy alcoholic drinks.
But they were turned away by staff who told them it was company policy not to serve anyone in uniform.
Now over 50,000 people have joined a Facebook group calling for a boycott of Browns bar this Saturday, which is Armed Forces Day.
Those who set up the group on the social networking website stressed they were not advocating violence towards the bar but wanted to make a stand.
The family have requested that no protest action should be taken. It is Armed Forces Day this Saturday and would be grateful to simply boycott Browns, ignore the place entirely and celebrate the job every military personnel are doing for this country day in day out. This group is not about damaging the building, violence or a witch-hunt. Please do not post comments aiming violence or damage towards Browns. This is a peaceful group.
– Group founders

Among those who have commented on the page are Corporal Thacker's wife Catherine, who said she was 'horrified' at what had happened.

She wrote: 'When I found out this news I was horrified. Especially seeing as one of the men in uniform was his grieving brother! The lack of respect you have shown my husband, me and the lads will never be forgotten by the people in Coventry'.

Mrs Thacker has since received an 'unreserved apology' from Ken Brown, the owner of Browns Cafe and Bar in Coventry.
Two uniformed military personnel visited my bar with a view to purchasing a coffee and were refused by my staff as it is company policy not to serve anyone in uniform. I was not present on the premises at the time. I have since been made aware of why these soldiers were in Coventry and had I known of the circumstances, I would have willingly served them. I am genuinely sorry for the distress caused to the family of the late Corporal Michael Thacker and through the military family liaison officer I have sent an unreserved apology to his widow Catherine and the soldiers concerned.
– Ken Brown, owner of Browns Cafe and Bar in Coventry