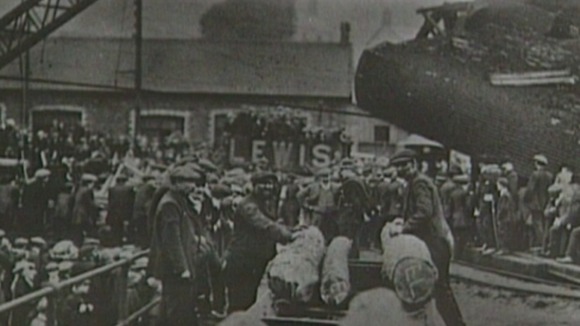 The First Minister Carwyn Jones will visit the site of the worst mining disaster in British history later to launch a major appeal for the first ever Welsh National Mining Memorial.
440 men and boys were killed in 1913 after a huge explosion at the Universal Colliery site in Senghenydd. The disaster affected the lives of almost every household in the Aber Valley.
The Aber Valley Heritage Group has invited the First Minister to the village to launch an appeal for a poignant mining memorial.
Mining is central to the story of Wales. It has shaped our history and communities and its social and physical legacy is still with us to this day.

There was a time when mining tragedies were sadly all too common and only recently we saw four men lose their lives at the incident at Gleision, an event which was a sharp reminder of the dangers of the industry.

It is only right that we have a permanent memorial to those - both in the past and present - who go underground in search of coal.
– First Minister, Carwyn Jones AM

The Heritage Group are developing plans to erect a landmark memorial close to the former Universal Colliery site that will be dedicated to all mining communities across Wales, while also honouring the victims of one of the worst colliery disasters in British history.
We fully support this exciting scheme to recognise the generations of men and boys across Wales who worked underground - many of whom lost their lives in the process. The tragic history of the Aber Valley, together with its significant contribution to the Welsh Coal industry, makes it a fitting location for a Welsh National Mining Memorial - the very first of its kind in Wales.
– Cllr Harry Andrews, Leader of Caerphilly County Borough Council

The project is moving forward thanks to financial support from Caerphilly County Borough Council, Heritage Lottery Fund and various community contributions.

HLF has awarded Aber Valley Heritage Group £48,800 for a programme of activities that will raise awareness of the disaster in addition to creating the memorial. These include researching public record office archives to identify the victims, training in oral history, digital story telling and creative writing and ceramic workshops to produce the commemorative tiles for each miner to be used in the new memorial.
"Our industrial past is an important part of Wales' heritage, particularly in the south Wales valleys. It's great that HLF funding is enabling Aber Valley Heritage Group and the community to mark this important event to create a lasting memory of the courageous miners who risked their lives every day. This poignant memorial and the Aber Valley Heritage Museum will act as permanent reminders encouraging present and future generations to explore the stories of their brave ancestors.
– Jennifer Stewart, Head of HLF in Wales

The project will include a landscaped garden, a wall of remembrance, a small parking area together with a statue to be designed by artist Les Johnson providing a symbolic, poignant and recognisable landmark which will be a focus of respect for Welsh Miners.

For more information about the scheme or to find out how you can make a donation please contact Aber Valley Heritage Group on (02920) 830444 / 5 or email senghen.heritage@btconnect.com