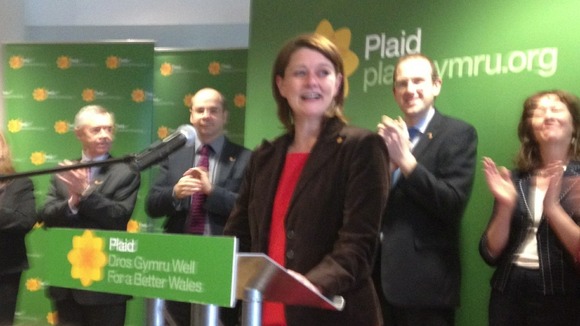 Leanne Wood will outline her vision of a Britain in which Scotland and Wales are independent countries in a speech today. She says England is not just a neighbour but a sister nation and that a common sense of Britishness will survive. She has previewed her speech in an article for today's edition of 'The Scotsman'.
The future direction of my country is yet again linked to the fortunes of Scotland. We are both at a hinge point in history. The Scottish referendum is an exciting opportunity, not to discard but to redefine the ever-evolving relationships between the nations of these islands.

We have a language in common, familial and friendship ties. Scotland and Wales, Celtic nations both, border a single country, a millennium and a half of interaction with which has shaped our respective cultures like no other. England is not just a neighbour to us. She is our sister nation too.

Feeling Welsh or Scottish was never dependent on the existence of a Welsh or of a Scottish State. So people's common sense of Britishness doesn't need a British state to sustain it either. The concept of Britain has proven itself to be as adaptable in the past as should it be in the future. Those of us who believe in a new partnership of equals are interested in what Britain could mean tomorrow.

If the people of Scotland vote for an independent country in 2014, then such a new Britain can emerge. I am determined that Wales will not be a bystander at that important junction. Our journey on the constitutional path may not immediately mirror the Scottish experience. Each nation will have a unique contribution to make in the new 'social union'.

With a seat for everyone at the table there will be plenty of areas where we will be able to pool and share solutions and creativity in a strong partnership of equals, which. within a generation, I am sure, will include an independent Wales. Instead of clinging to the straitjacket of the single state it's time we all began to embrace this future Britain, a Neighbourhood of Nations, sovereign, democratic and free.
– Leanne Wood AM, Plaid Cymru leader

Today's speech is to the European Free Alliance's conference in Aberdeen. The EFA represents Plaid Cymru, the SNP and similar parties in other countries in the European Parliament. Plaid's strategists see it as the first in a series of speeches in which Leanne Wood will weave her policies into a convincing narrative.

In a sense it will be a return to Plaid Cymru's traditional policy of a Britannic Confederation, which the party promoted under Gwynfor Evans' leadership until it switched to supporting Welsh membership of the European Union. The goal of joining the EU remains but not membership of the Eurozone. Instead there is backing for a 'Sterling Zone', with the British pound remaining as a common currency for England, Scotland and Wales.

In Plaid's model, England would not be able to outvote the smaller members of the currency union, as there would be 'parity of esteem' between the constituent nations. Party strategists deny that there's a danger of the relationship becoming more like that between Germany and the weaker members of the Eurozone, with inevitable pressure to adopt common tax and economic policies. They point to the example of the United States, where some of the constituent members don't even levy income tax.