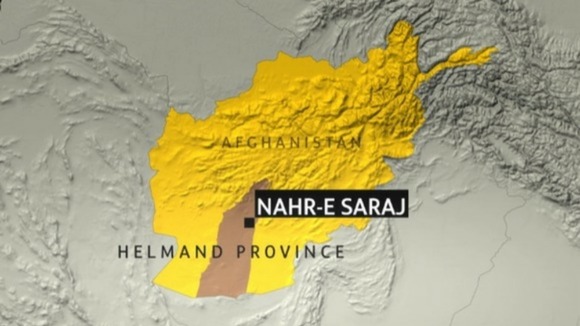 Two soldiers serving with the 1st Battalion Welsh Guards have been killed in Afghanistan, the Ministry of Defence has confirmed.
The MoD says they were shot by a man wearing an Afghan police uniform at Check Point Kamparack Pul in Nahr-e-Saraj, Helmand Province.
They received first aid at the scene but died of their injuries.
A third soldier serving with the Royal Corps of Signals has also been killed.
The soldiers' families have been informed and have asked for a 24 hour period of grace before further details are released.
It is with deep regret that I must inform you that three soldiers, two serving with 1st Battalion Welsh Guards and one serving with the Royal Corps of Signals, have been killed in an incident at Check Point Kamparack Pul in the Nahr-e-Saraj district of Helmand Province. Their loss will be felt deeply across Task Force Helmand. However, this will be nothing compared to the grief experienced by the soldiers' families. Our thoughts and prayers are with them at this extremely difficult time.
– Major Ian Lawrence, spokesman for Task Force Helmand

The Chief of Staff for Task Force Helmand, Major Andy Cox, has paid tribute to the three soldiers killed.

Defence Secretary Philip Hammond says an investigation into the deaths of three soldiers in Afghanistan is underway.

In a statement, he said: "We are determined to get to the bottom of exactly what happened yesterday at Checkpoint Kamparak Pul, and to pursue those who are responsible."
I was saddened to hear of this cowardly act by a man wearing an Afghan uniform, which has taken the lives of three brave British soldiers. All of our thoughts are with the families of these men who have died in such tragic circumstances. They gave their lives protecting Britain's national security, helping to make sure that Afghanistan never again becomes a haven for international terrorism.
– Defence Secretary Philip Hammond

He added that although yesterday's incident was 'deeply tragic', it would not 'derail the mission or distract us from the task in hand'.

General Sir David Richards, Chief of the Defence Staff, has also paid tribute to the soldiers but echoed Mr Hammond's statement that what happened 'will not stop us from moving forward.'
I was in Afghanistan with British troops last week where these deaths will be felt keenly. At the same time, I know that the resolve of those on operations will be unshaken. Generally, there remains a high level of trust between the Afghan forces and their British counterparts with whom they work and live every day.
– General Sir David Richards, Chief of the Defence Staff

Prime Minister David Cameron called news of the soldiers' deaths 'appalling' and said he'd do all he could to ensure justice is done.
I am deeply saddened by the appalling news that three British soldiers have been killed in Afghanistan. My heart goes out to their families. The suspected perpetrator is in custody and we will do everything in our power, with the Afghan National Security Forces, to ensure that justice is done. This tragic incident again demonstrates the very real risks that our brave soldiers face every day. We will do everything possible to find out how this happened, and learn any lessons for the future.
The deaths bring the total number of members of UK forces to have died since operations in Afghanistan began in October 2001 to 422.