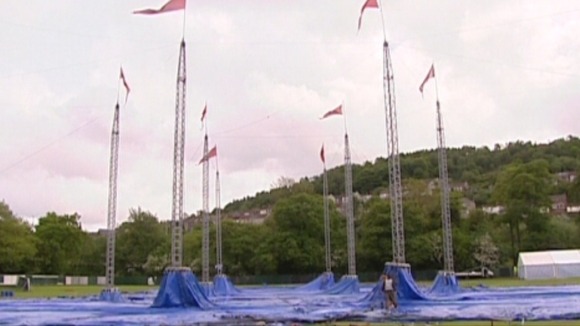 Members of Pontypridd Cricket Club are fighting the decision to hold the Ponty's Big Weekend music festival on their grounds.
They say that when the festival was last held at the club six years ago, it left their pitch in poor condition.
Members say the damage done meant that the ground couldn't be used as a county cricket venue.
The festival, which is headlined by Jessie J and Ollie Murs, is a popular event with music lovers and tickets for Saturday and Sunday have already sold out.
Members of the cricket club are concerned that the event will further ruin their grounds, but the Council says the decision needs to be balanced by the financial benefits of the event.
In a statement they said: 'The event already brings £1m worth of additional spend into the town and clearly with the addition of the extra night it increases the economic impact of the event for Pontypridd and the surrounding areas.'
The Council is very much committed to the regeneration of Pontypridd and our programme of events within the park have a significant role to play in this.

The Council appreciates the inconvenience the new positioning of the concert in the park causes for the cricket club, but we have had to balance this against the wider economic benefits the event brings to Pontypridd and Rhondda Cynon Taf. To ensure any inconvenience is minimised the Council has invested in infrastructure to protect the wider cricket area and the wicket area and the run-ups are to be completely protected.

The Council has invested in additional track-way and terraplastic flooring to minimise and avoid damage. The Council has robust arrangements in place to ensure any damage which is caused to the wider area will be remedied as quickly as possible.

We must also stress that our site arrangements for the field include a large percentage of the cricket field being fenced off to minimise the likelihood of damage causing any further inconvenience.
– Spokesperson for Rhonnda Cynon Taf Council