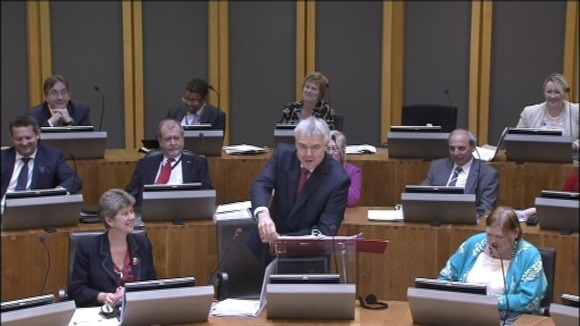 With the summer break, looming on the horizon, it would be no surprise to hear that the FM was in a mellow and generous mood. True, there was much to try his patience, thanks to those members still intent on asking their pesky questions. Instead of spending his spare time pouring over those holiday brochures, it was still homework round the kitchen table, revising subjects as far apart as teaching future generations about Welsh history. What did they think St Fagan's and the telly was for? To that irritating subject of electrification. Without a doubt , there were some people in this chamber he would like to see electrified!
But it was that Kirsty Williams who got his goat with her smart aleck questions about pupil premiums.
First Minister, in recent weeks, at least half of your labour colleagues have issued press releases hilighting the extra money for the poorest school children made available by the budget. Vaughan Gething has been tweeting saying it's thanks to the Labour Government. Of course, everyone knows, it's thanks to the Welsh Liberal Democrats doing the budget negotiations. However, will you now ensure that the other half of your labour colleagues inform their constituents of this excellent Liberal Democrat policy.
– Leader of the Welsh Liberal Democrats, Kirsty Williams AM

Well! Who would have thought it! Politcians taking credit for other politicians efforts! Never!

But the FM was still in good humour, those swaying palms and blue holiday skies now just over the horizon. No! He was not going to be nettled by this:
Well, I'm going to be generous today in the hope that the generosity of spirit will continue onto tomorrow. It was quite right to say it was a Liberal Democrat idea and we were pleased to take it forward and I am pleased to hear there's a high level of activity amongst Labour Assembly members.
– First Minister, Carwyn Jones AM

With a benign wave of the hand, the FM must have hoped that was the end of the matter. But no such luck. There she was again bobbing up with another question. Kirsty Williams wanted to know if the Liberal Democrat's pupil premium was his proudest achievement this year! The cheek of it. Can't let this one go by!
Well, I can see the generosity of spirit lasted one and a half seconds. I perfectly accept that as part of the budget negotiations, the pupil grant was approved and that was something agreed on by our two parties. The budget was subsequently passed. Its a policy we are happy to implement, a policy we agree with.
– First Minister, Carwyn Jones AM

One down two to go. Next with more pesky questions, Andrew RT Davies. What's bothering him? Predictably he's bringing up the matter of electrification. The achievements of the Heathrow spur improving connectivity to South Wales and the electrifying of the Valleys line and that of the line to Swansea. But wait! RT is now asking isn't it time for the FM to get his act together, like those lovely people in charge at Westminster?
Is it not now time you stepped up to the plate in the field of legislation. We've only had one bill come before this institution.In the field of health, we've had £534 million cut out of the health budget, a sixteen percent increase in waiting times here in Wales,and in the field of education and forty percent of primary school children entering secondary school with below average reading age. Doesn't this compare poorly to the level of committment shown by the UK Government over the last few days?
– Leader of the Opposition, Andrew RT DAVIES AM

Ooh! The holiday spirit and any last trace of generosity vanished in a puff of smoke. The FM tartly replied that he looked forward to agreement with the Westminster Government over the Barnet floor, borrowing and Silk part one. The slow coaches! And as far as electrification was concerned it was only something re announced that had already been put forward by a previous Labour Government! What? More politicians claiming credit for other politicians hard work! Never!

Two down, only one to go. Up steps Leanne Wood, Leader of Plaid Cymru, fresh as a daisy with a new deputy announced today, Elin Jones. Instead of a shopping list of items for the forthcoming happy holidays, Leanne had compiled a list of apparent failures of the Welsh Labour Government.
You said that you would stand up for the people of Wales against the Tory cuts, You could have shielded people from these cuts to council tax benefit as an emergency measure, yet you've chosen not to. You've chosen to have other priorities. Isn't it a case you've failed to deliver on this? You've failed to deliver on Barnet reform so far. You've failed to deliver on any kind of fiscal stimulus that would protect jobs in our communities.Can you tell us how you respond to the words of your advisor Gerald Holtham who says the Welsh Government has been nowhere near as active as the Scottish Government?
– Plaid Cymru leader, Leanne Wood AM

But the FM was on the home straight now, the tantalising vision of a deck chair, a cool beer and a knotted hanky on his head.

He flung back these words at Leanne Wood:
As far as Plaid Cymru are concerned, their words would carry more weight if they had produced any policies at all in terms of economic stimulus, but they have none! We're still waiting for a proposed bill actually,that they might put forward. But I remind the leader of plaid Cymru of what has been done to provide a fiscal stimulus.
– First Minister , Carwyn Jones AM

And he read from his list. It should have been the Welsh Government's measures to stimulate the Economy. Alas the list he read from said ''suncream, book , beach towel''.

Oh dear!

Happy Holidays!