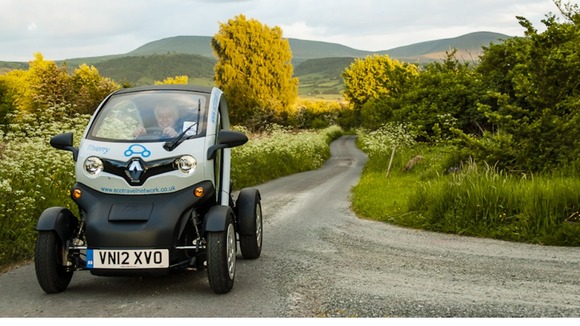 There'll soon be an eco-friendly way to get around Brecon Beacons National Park.
Today, the National Park Authority are rolling out environmentally-friendly vehicles, in conjunction with the Eco Travel Network. The new scheme offers visitors and residents the chance to explore the area in low energy vehicles that are powered entirely by electricity generated from the sun, rain and wind.
Money from Brecon Beacons National Park Authority's Sustainable Development Fund has been spent on six Renault Twizy vehicles, which will be used on the rural roads in the park.
The vehicles can carry two people, and have a top speed of 50mph, and with National Park visitors driving an average of 300 miles during a one week stay - at a cost of 50,000 tonnes of CO2 a year - the new vehicles provide a zero carbon travel alternative to normal cars.
Accommodation businesses in the area have also joined the project and will lease the vehicles and rent them out to guests to encourage green travel. The initiative makes the Brecon Beacons the first UK National Park to offer electric car rental through its accommodation businesses.
Support from the Sustainable Development Fund has helped the Eco Travel Network with start up costs and has really got this project off the ground. This scheme will have benefits for the local economy, environment and community, and we're pleased to support such an innovative approach to sustainable travel.
– Cllr Evan Morgan, Chairman of Brecon Beacons National Park Authority's Sustainable Development Fund