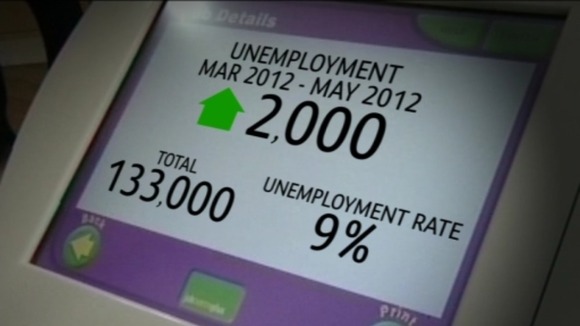 Figures out in the last half an hour have revealed that unemployment in Wales has risen slightly in the last quarter.
An extra two thousand people are out of work.
That now takes the total number here to 133,000.
Secretary of State for Wales Cheryl Gillan has urged businesses in Wales to seize upon the opportunities presented by electrification of the Great Western Mainline to Swansea and the Valleys, after ILO Labour Market Statistics released this morning showed that employment in Wales decreased slightly.
Today's ILO statistics reveal that the labour market remains a complex picture in Wales, with a slight decrease in employment and a rise in unemployment as well as a fall for economic inactivity rate and level. The claimant count unemployment rate has remained static.
The Secretary of State said:
After several months of relatively positive news for employment in Wales I am disappointed though not surprised with today's figures.

"They demonstrate the continued fragility of the labour market in Wales which, coupled with wider uncertainty in the Eurozone and other international markets.

I am however, encouraged that steps are being taken to restore consumer and business confidence, including the Funding for Lending scheme, helping businesses and families to access finance more easily and more cheaply.
– Secretary of State for Wales Cheryl Gillan
We also cannot underestimate the significance of the announcement on Monday, which will see more than £350million of direct investment in the Welsh railway infrastructure. While the project itself will not be completed for several years, it sends out a strong message now to potential investors about the UK Government's commitment to invest in Wales' future and to bridging the economic divide between parts of the UK.
– Secretary of State for Wales Cheryl Gillan