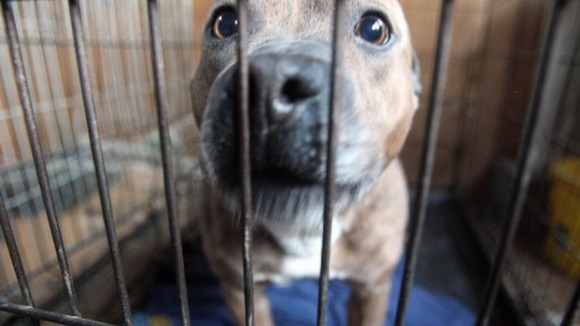 More than 200 postmen and women were attacked across Wales by dogs from April 2011 to April 2012. That figure is up three per cent on the previous year.
Royal Mail says that they support the new legislation planned by the Welsh Government on the compulsory micro-chipping of dangerous dogs as a way of holding dog owners to account.
According to the Royal Mail, the number of attacks usually peaks during the school holidays, and they're appealing to dog owners in Wales to keep their animals under control during the summer.
A total of 217 attacks took place between April 2011 to April 2012, and the Royal Mail says this is 'unacceptably high'.
Richard is a Royal Mail worker from Pontypridd who was attacked by a Rottweiler in 2011. He suffered bruising and scratch marks on his shoulders, neck and upper body, and had to go to hospital.
I've had a few attacks over the years but the most frightening was by a Rottweiler last autumn. I was out on delivery and I knocked at the door because I had a parcel. A little girl – 2 or 3 years old – opened the door and behind her was this huge Rottweiler. The dog saw me and bounded out from behind the girl. I put the parcel in between me and the dog to protect myself. The dog bit the parcel, it locked its jaws around it. Then the dog jumped up and the weight and power of it pushed me over. I had my hands on the dog's neck trying to keep it from biting me. It had its paws on my shoulders trying to bite me and I could feel its claws. It was very frightening.
– Richard, Royal Mail delivery worker

The Royal Mail is urging dog owners to make sure incidents like these are avoided.
Clearly most dogs are not inherently dangerous, however, even the most placid animal can be prone to attack if it feels its territory is being threatened. We would like to express our thanks to our customers for working with us to help reduce the number of attacks, but a three per cent increase in Wales since 2010 is unacceptable. Our first priority as an employer is to ensure the welfare and safety of our people who provide a valuable service to our customers and we regularly provide advice to our people to help minimise the risk of an attack and have spent over £100,000 on awareness campaigns and equipment to help reduce the risk of injury. However, even just being threatened by an unrestrained pet is a frightening situation for our delivery staff and we would appeal to owners to keep their pets under control, especially if they know their pets have a territorial nature.
– Ian Stockdale, Head of Health and Safety Management for Royal Mail

Postmen and women face increased risk during school holidays, when parents and children are at home with dogs, allowing them to roam unsupervised in the garden or out onto the streets without restraints.