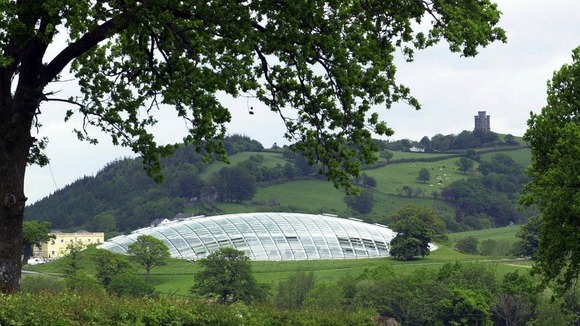 An installation described as "the most important environmental art installation ever to come to Wales" is arriving at the National Botanic Gardens today.
The Ghost Forest is 10 giant hardwood trunks, weighing up to 20 tonnes, which are being manoeuvred into position at the National Botanic Gardens of Wales in Carmarthenshire.
The logistics of transporting the Ghost Forest from Oxford are complex. The trunks travelled aboard six huge low-loaders yesterday and spent the night in Pont Abraham services at the end of the M4.
Ghost Forest is the creation of artist Angela Palmer. She explained the inspiration for the work:
The alarming rate at which we are destroying our natural resources was the driver behind the Ghost Forest installation.

Like most people, I am turned off by the endless bombardment of mind-numbing statistics on climate change, and even more so when they turn out to be contradictory.

But when the scientist Andrew Mitchell told me that an area of rainforest the size of a football pitch is being destroyed every four seconds, it stopped me in my tracks. That rate equates to an area the size of England being wiped out every year. And when they are gone, they are gone.

With his words ringing in my ears, I began to research ways of visually expressing the issue.
– Angela Palmer, Artist

Before settling in Wales, the Ghost Forest trunks had been installed in Trafalgar Square and outside the Danish Parliament in Copenhagen.