Milk price dispute
Welsh dairy farmers won't strike during Olympics but are prepared to protest again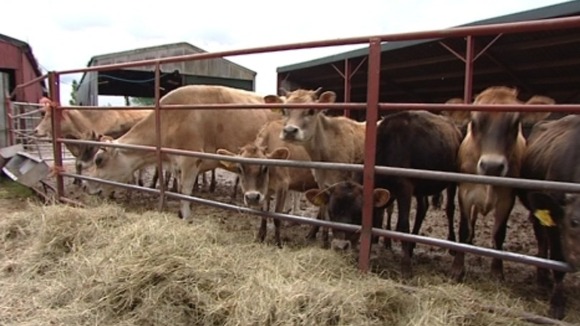 Welsh dairy farmers say that they won't strike during the Olympics but are prepared to protest again if milk processors fail to reverse the cuts they made in June.
About 50 Montgomeryshire farmers met with the National Farming Union Cymru (NFU) in Welshpool today to discuss the current milk crisis.
The National Farmers Union said that while they're happy with the u-turn on the decision to further reduce the amount farmers are paid for their milk, they still want to reclaim the money that has been lost by cuts made in June.
NFU Cymru Vice Milk Board Chairman Jonathan Wilkinson issued an official statement:
After more than two weeks of campaigning by the dairy coalition on which NFU Cymru is represented, the major milk processors have agreed to drop their planned price cuts for 1st August.

This was one of our key goals when we set out and we have achieved it but it's just one step towards a longer term solution.

The price cuts enforced in June remain in place; farmers are still being paid less than what it costs to produce so our work continues towards returning that lost money.

We have no wish to disrupt the public's enjoyment of the Olympics so during that period our campaigning will involve further talks with processors but if those discussions fail then we are only too prepared to protest once again to secure justice and fairness for milk producers.
– NFU Cymru Vice Milk Board Chairman Jonathan Wilkinson