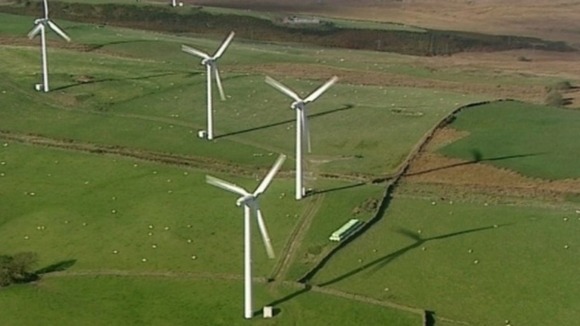 The village of Cefn Coch has been named as the preferred site for an electricity substation in Mid Wales.
A meeting was held in Welshpool today, where National Grid made the announcement.
The plans could see the hub linked by more than 100 high voltage pylons.
A National Grid spokesperson said:
National Grid has announced the route corridor and substation site needed to connect new windfarms in mid Wales to the high voltage electricity network in Shropshire.

Cefn Coch in Powys has been identified as the preferred area for the substation and the 'red north' route via Llansantffraid to Lower Frankton in Shropshire as the preferred route corridor.

It has not yet been decided how the connection will be constructed but, based on work so far, it is likely that a combination of both overhead lines and underground cables will be used. We will now carry out more work to identify the most appropriate technology for different parts of the route.
– National Grid

A number of public exhibitions have been held by National Grid to discuss the plans, with more than 6 thousand people attending.

The proposals have sparked protests - over a thousand campaigners demonstrated outside the Senedd in Cardiff Bay in May last year.

Those who are against the substation and the pylons, which will service wind farms, say they will disfigure the countryside.

Montgomeryshire Against Pylons (Map) have described the decision as a "travesty".

A meeting is being organised tonight in Cefn Coch for residents.

Montgomeryshire AM Russell George said:
As far as I am concerned, there is absolutely no justification for this route announcement today, particularly when we are now not even sure that this level of infrastructure is required.

The First Minister for Wales has repeatedly stated that there is no need for infrastructure development in Mid Wales of this nature, so why announce a plan that will just cause great concern to communities?

National Grid is an unelected private company which is proposing to bring forward plans which will ruin large areas of Montgomeryshire, with local communities and elected representatives being ignored.

Local people are firmly united in not wanting this project which is coming at a tremendous cost to the already overburdened electricity consumer.

I know that there is a united campaign in Montgomeryshire but its important that in the face of this decision today that all the campaign groups across Mid Wales rallying together and remain united.
– Montgomeryshire AM Russell George

The meeting for residents will take place at 5pm.