VJ Day: the Royal Navy hero who never learned to swim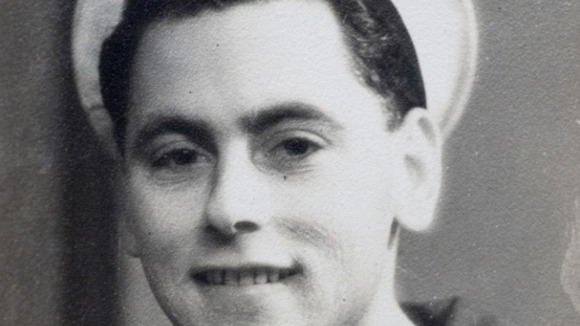 It's 67 years after the Second World War ended on Victory over Japan (VJ) Day. Caradog Jones, a Royal Navy veteran from Anglesey who's now 88, will return to Australia later this year to recall where his war ended back in 1945. He was part of some of the war's central conflicts, in the Mediterranean and the Pacific, and survived countless dangerous attacks.
He was called up as an Able Seaman, at the age of 18, in 1942. He joined the Torpedo Branch and was responsible for firing torpedoes from Destroyers on enemy ships and dropping depth charges to sink incoming enemy submarines.
I went to war completely innocent, not knowing what to expect. The funny thing is that I joined the Royal Navy and I couldn't even swim a stroke, despite being surrounded by the sea growing up on Anglesey. I still can't swim to this day.
– Caradog Jones

After successfully completing his training in Plymouth, in 1943 Caradog joined the men - who were to be his closest colleagues - on board HMS Queenborough.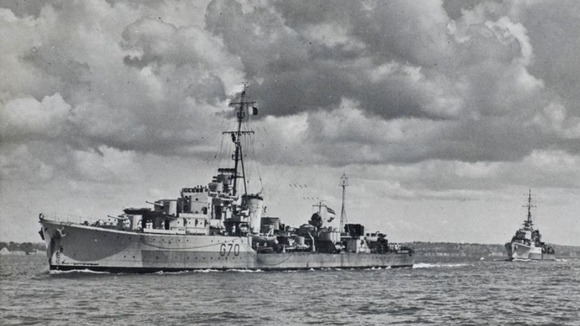 Caradog was involved in the invasion of the Italian island of Sicily that summer. During this successful mission the ship had one of its lucky escapes.
We were getting bombed constantly wherever we were. On one occasion during Sicily, six German fighter planes came at us with a bomb each aimed at us. The bombs were so close that we ended up going right through a bomb water spout in front of us.
In September 1943, Caradog and the Queensborough had a central role to play, shelling positions and protecting other warships, during the invasion of mainland Italy.
The Germans bombed us heavily. When we were in our action stations or when we came under attack, you didn't have time to be scared. You just got on with the job at hand. The ship would speed up and would be rocking all over the place to try and dodge the bombs. With our guns going off and all the bombs coming down, the sound was deafening. It was only afterwards that you would think back at how lucky you were and say 'thank God that's over with'.
We would also regularly go on patrol with one of our sister ships. One day, she went out on her own and we stayed behind. She had only gone about one hundred yards out of the port when all of a sudden she was blown up by a mine in the water and we lost her. We were lucky that day, I guess, and it could have been us.
At the end of 1944, the Queensborough was deployed to the Pacific Ocean to support the war against Japan. Caradog was therefore part of the Battle of Okinawa, off the south coast of Japan, from April until June 1945. It's been referred to as the 'Typhoon of Steel' in reference to the size of the forces, the ferocity of the fighting and the dangers posed by the Kamikaze attacks from the Japanese defenders. Thousands of Navy personnel died and at least 47 vessels were sunk by Kamikaze attacks.
The Japanese were trying their best to stop us and they threw everything at us. Our job really was to distract Japanese aircraft from attacking our troops on Okinawa. We were sitting ducks.
The war ended with the surrender of Japan and the end of fighting on 15 August 1945, after atomic bombs were dropped on Hiroshima and Nagasaki.
After the war finished, we had to wait five days before we could move from our position because the Japanese had to call back all its submarines and make sure they were all accounted for. Some of the submarines might have been out of the reach of radio signal. In effect we were still in action stations just in case we were attacked.
Their ships were then involved in transporting prisoners of war from the Pacific, escorting many Australians back to Sydney.
We had a huge welcome as they were expecting us in. The Sydney Harbour Bridge was black with people. It was a huge celebration.
Caradog returned back to the UK on another ship, HMS Norman, in December 1945.
I hadn't been home for two and a half years and I got home a week before Christmas. My brother had been fighting out in Burma and luckily, he came home two days before Christmas. It was wonderful to be home with everyone safe. My Mother was delighted to have her boys back home safe and sound.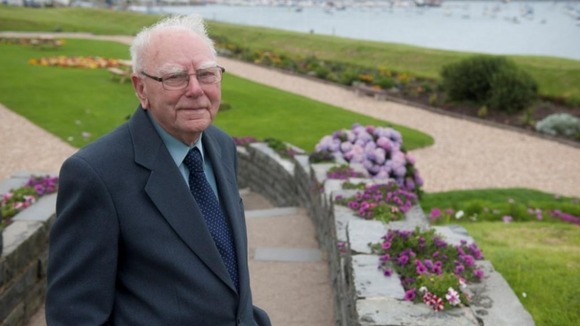 Now, 67 years later, he will be returning Down Under again for three weeks in November to pay his respects to fallen colleagues and retrace his steps. He will be taking part in Australian Remembrance Day in Canberra on 11 November.
Caradog will be going back to Australia thanks to the Big Lottery Fund's Heroes Return 2 programme