A-level results published today reveal the overall pass rate for students in Wales has improved again slightly this year - but there has been another fall in the number of pupils achieving top grades.
97.6% of entries resulted in a pass at grades A* - E - up 0.4% from last year. But those achieving at least an A-grade has fallen by 0.3% and the percentage of pupils scoring A* is also down by 0.3%.
The figures also reveal Wales is still behind the rest of the UK - although the gap in the overall pass rate has narrowed slightly from 0.6% in 2011 to 0.4% this year.
Girls performed better than boys overall, with 98% achieving a pass at grades A* - E compared to 96.9% of boys.
But more boys achieved the top grade of A* - 6.3% compared to 5.8% of girls.
The full A-level results show:
97.6% of A-level entries resulted in a pass (A* - E) - up 0.4% [UK average 98%]
75% of A-level entries resulted in a pass at grade C or above - up 0.9% [UK 76.6%]
Almost half (49.9%) resulted in a pass at A* - B - up 0.7% [UK 52.6%]
23.6% scored A or A* - down 0.3% [UK 26.6%]
6% achieved A* - down 0.3% [UK 7.9%]
Meanwhile 8,259 students have achieved the Welsh Baccalaureate Advanced Diploma this year - an increase of 1,311 (18.8%) compared to last year.
The full Welsh Baccalaureate results show:
Almost 10,000 learners (9,978) completed the Advanced level Welsh Baccalaureate programmes this year
8,747 learners achieved the Core certificate of the Advanced Level Welsh Baccalaureate
8,259 learners have achieved both the Core certificate and the options requirements and have been awarded the full Welsh Baccalaureate Advanced Diploma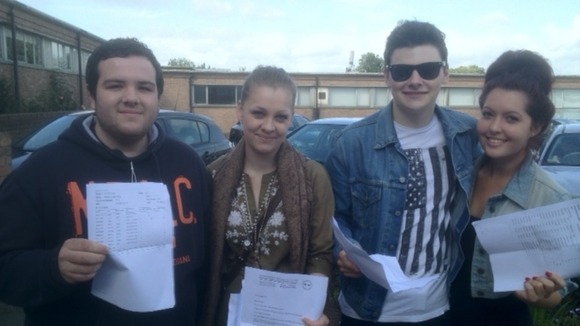 Joining students picking up their results at Caerleon Comprehensive School in Newport, Education Minister Leighton Andrews praised the results.
The young people here at Caerleon Comprehensive, like others across Wales and the UK, deserve to celebrate their results today. They've worked hard and deserve credit for what they have achieved. Parents and teachers should also be applauded for the support they've offered our young people along the way.

It is also encouraging to see our flagship Welsh Baccalaureate continuing to grow in popularity as more and more young people recognise the added value it offers them when applying for University or entering the work place by developing the skills and attitudes that universities and employers demand.
– Leighton Andrews AM, Education Minister

The results paint a similar picture to last year, when there was a slight increase in those who achieved grades A* - E and the number of people gaining the top grades fell.

In 2011 the worry was that those who had ambitions to go on to study at university may not realise their dream as fewer places were on offer.

Even those with top grades were among those who missed out. Universities in Wales had capped the number of places available, but the issue was the rush to take up places and avoid this year's hike in fees for English students.

This year those who live across the border and want to continue their studies will now pay roughly triple the fees - up to £9,000 a year.

The number of pupils from England applying for university places in September 2012 has dropped significantly. Nearly 50,000 fewer people have applied from England - down 10%.

This situation could inadvertently benefit Welsh students as more places may be available. Despite this, the number of applications from pupils living in Wales is also down nearly 3%.

Universities here have also been allowed to increase their fees to an average of £8,800 per year but for Welsh students fees have been kept on hold regardless of where they study. They will pay £3,465 per year as the Welsh Government tops up the rest.

There are also those who would prefer to go into work. The current economic climate is making things challenging and young people remain the largest group unemployed. Fifty thousand young people are out of work in Wales, according to Careers Wales - that's more than a fifth. However, there are more schemes and apprenticeships being offered to try and tackle the problem.

For those unhappy with the grades they find inside their envelopes today, there are other options - as Rosemary Allen from Career Wales explains.