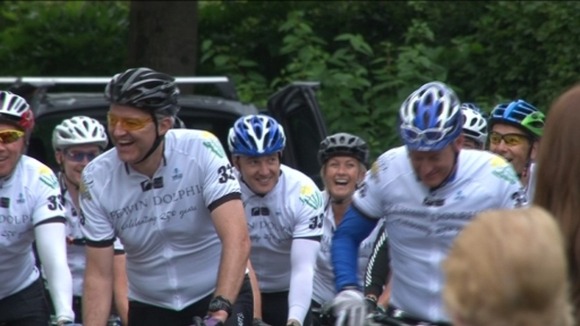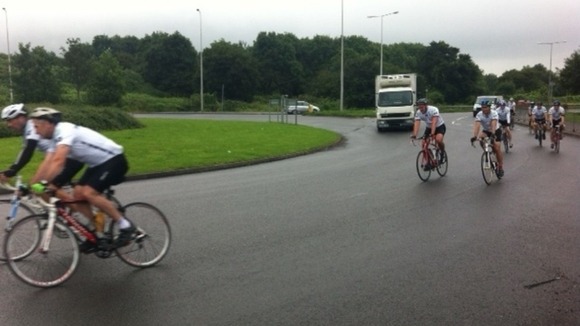 As professional cricketers, they're used to a challenge. Now former players including Andrew 'Freddie' Flintoff and Steve James are swapping the bat for the saddle as they embark on a two day cycle ride from Cardiff to London.
The 150 mile ride, which begins this morning at Cardiff's SWALEC Stadium and ends at the Kia Oval in London, will raise funds for the Tom Maynard Trust - the charity set up in memory of the former Glamorgan and Surrey batsman who died in June. The Trust aims to raise money to support promising cricketers from disadvantaged backgrounds.
Also riding are current Glamorgan staff Will Bragg and David Harrison, and ex-players including Darren Thomas, Andrew Davies and Ryan Watkins. Tom's Father Matthew will also take part.
Ian Williams, who along with Martin Loosemore helped organise the ride, said:
The cycle ride was my idea, but initially it was only going to be myself and one other, not the number of riders it's got to now.

I tweeted one night what we were going to do and it was forwarded on by a number of people with more followers than me and the interest bloomed from that!

At the start when it was just me and Martin cycling, I thought it would be great to raise £1,000, but with more riders involved and about 20 days to go, we're well past that. We now hope to raise more than £20,000.
– Ian Williams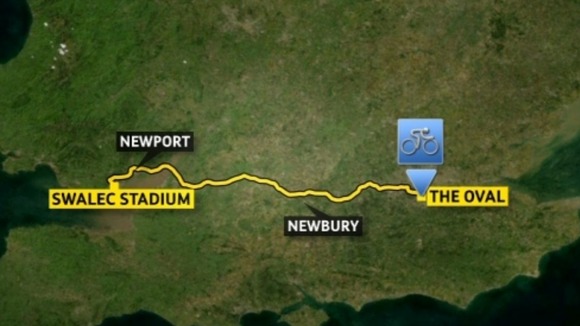 The 25 strong team will cycle 95 miles to Newbury where they'll spend the night, before pedalling the rest of the 55 miles to the Kia Oval on Tuesday. They aim to arrive there in time for tomorrow's CB 40 game between Surrey and Glamorgan, which is a tribute match to Tom Maynard. The proceeds from the game will be donated to the trust.
According to Mike Fatkin, one of the founding trustees and a close friend of the Maynard family, the bike ride could be the first of many fundraising schemes.
There have been so many offers of help from professional cricketers past and present and we've got a number of ideas and projects being considered. The whole process of establishing the Trust has been a real help to Matt, Sue and Ceri.
– Mike Fatkin

Tom Maynard died after going onto a London underground train line at Wimbledon on June 18th. An inquest into his death was opened and adjourned until September 24th.

29 cyclists including Andrew Flintoff heading off from SWALEC Stadium for 160 mile ride for Tom Maynard charity

Having followed them for a while they're averaging about 15 mph (therefore so am I). Only to overtake them and film them passing me again.

"What happened with Tom rocked everyone within the cricket world" says Andrew Flintoff.

"This is such a fantastic cause. I just wanted to show my support for Matthew and the Maynard family."

"The Trust has been set up raising money to help kids - lads, girls - get involved with cricket, whether it's buying kit, or going on tours or giving bursaries".

"The one thing that's going to be spurring everyone on is that we're doing it in Tom's memory and that we're doing it for the Trust."