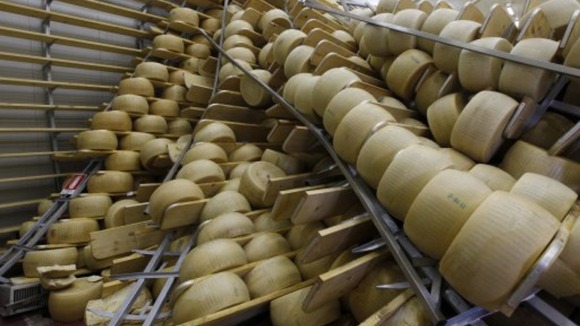 A cheesemaker from west Wales is leading a campaign to help one of the world's most famous cheeses - the Parmesan - after earthquakes struck the producing region in Italy earlier this year, damaging production.
John Savage-Ontswedder, who owns Teifi Farmhouse Cheese, near Llandysul in Ceredigion, has launched the 'Save A Cheese' project.
As an artisan, raw milk cheesemaker I understand how importantit is to support raw milk cheesemakers wherever they me be, because they arean endangered species not just in the UK, but all over Europe.
– John Savage-Onstwedder

In late May, two powerful earthquakes hit the Emilia-Romagna region of Italy, heart of the Parmesan-producing region. Parmesan cheesemakers are facing precarious financial prospects, as many of the warehouses housing the cheeses were destroyed, damaging 10% of the year's production - a total of 608,000 cheeses.

Those cheeses were unable to complete their maturing process and looked destined for the bin. John has launched a website where people are encouraged to buy pieces of salvaged parmesan.
The Campaign's aim is to offer you the chance to help thestruggling Parmesan producers by purchasing your own wedge of 'QuakeCheese', to be delivered direct to your door with a healthy slice of karma.
– John Savage-Onstwedder

The bulk of the money raised will be paid to the individual cheesemaker, with some going to the Parmigiano-Reggiano Consortium for distribution to other cheese producers affected by the earthquakes. John is also travelling out to Italy to help the cheesemakers.