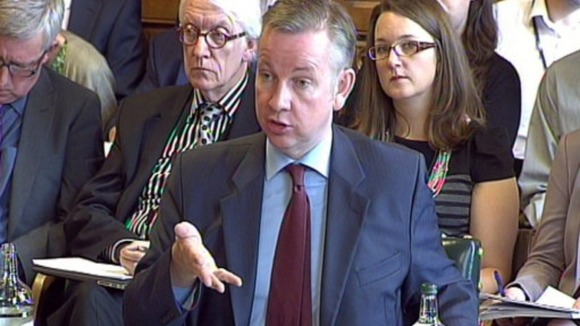 Appearing before the Education Select Committee this morning, Education Secretary Michael Gove made it clear that he does not agree with calls made by the Welsh Education Minister Leighton Andrews for a GCSE re-grade.
Yesterday Mr Andrews ordered the WJEC exam board to re-grade its English language GCSE after many students were were awarded lower grades than expected.
Michael Gove told MPs on the Education committee that the move was 'irresponsible and mistaken' and was a 'regrettable political intervention'.
He went on to accuse Leighton Andrews of 'attempting to shift blame' from what he claimed was Labour's poor record on education in Wales.
Mr Gove said employers would not be able to count Welsh GCSE results as equal to those in England - and he said that would have long-term effects.
Leighton Andrews has hit back at the criticism, saying that it's Mr Gove who is undermining parental confidence in GCSEs.
Here is his statement in full:
Michael Gove got a number of basic things wrong today. Clearly it suits him to try and turn the deepening crisis in England into a political spat with Labour in Wales – but we are going to stick to the facts and the core issue at hand. The pupils affected by this mess deserve straight answers, not political game-playing.

The Welsh Government has refused to adopt one of the GCSE qualifications available in England because we don't believe it stretches pupils enough. Separately, the evidence we collected showed more re-sits in England than in Wales, in respect of WJEC English Language.

Michael Gove's continued unilateral statements over recent months have, potentially irrevocably, damaged the three-country consensus on GCSEs and A levels that had existed for decades. His outbursts devaluing these qualifications have already led the Northern Ireland Examinations body to decide it would no longer offer its qualifications in England. Michael Gove is the person undermining parental confidence in GCSEs.

On GCSE English Language, the bottom line remains the same. Everyone accepts that a cohort of students have been treated unfairly. If Mr Gove and Ofqual are prepared to tolerate this unfairness then that's a matter for them. We have decided to act, on the basis of proper evidence and advice, to ensure that the best interests of Welsh pupils are protected. It is not our fault that the regulatory system in England is in crisis.
– Leighton Andrews AM, Welsh Education Minister