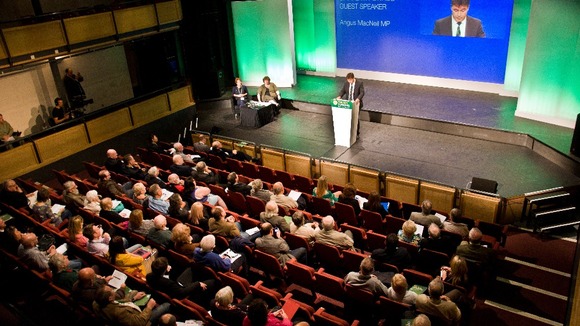 The Plaid Cymru conference in Brecon concludes today with the leader of the party's MPs, Elfyn Llwyd, giving one of the main speeches. He's expected to renew his call for the devolution of powers over policing and criminal justice to Cardiff Bay, arguing that the replacement of Ken Clarke by Chris Grayling, as Justice minister at Westminster, heralds a counter-productive penal policy that Wales could do without.
Mr Llwyd is certain to endorse the party's decision not to contest the elections to choose the new Police Commissioners. Yesterday in a private session of conference, calls for a last minute change of policy were rejected. Plaid Cymru members who wanted to field candidates said that the party should have taken the same view as Labour, that elections should always be fought even when it was opposed to them taking place. But the majority of delegates in Brecon backed the position that Plaid's National Executive adopted in July.
A discussion was had during the conference which confirmed the party's earlier decision not to stand police commissioners. The party has long opposed the introduction of elected police and crime commissioners because of the real danger that it could lead to the politicisation of policing. The party also believes that their establishment is not a good use of policing and financial resources at a time of such damaging public sector cuts. The decision not to stand candidates was taken following widespread discussion within the party over the past months.
– Plaid Cymru Spokesperson

One party member who had hoped to be a candidate said Plaid Cymru was behaving as if it was just a pressure group and not a political party. Though in her speech yesterday, Plaid's leader, Leanne Wood, praised the man who made the party more than a pressure group. She said Gwynfor Evans had turned the hope of Owain Glyndwr into reality by winning a seat at Westminster in the1966 Carmarthen by-election.

Despite her focus on tackling Wales' economic problems, Ms Wood was willing to give her audience some romantic nationalism. She might be a republican but she still reminded them that it was six hundred years since Glyndwr, who proclaimed himself Prince of Wales, won his final victory and that Brecon was where he was last seen before he vanished. But Leanne Wood sees no contradiction. For her, just as for Gwynfor Evans or even Owain Glyndwr, the right solution is a Welsh solution.
Personalities may come and go in London's corridors of power but the policies and priorities and the problems for Wales persist. The only way we will rebuild is from the bottom up.
– Plaid Cymru Leader Leanne Wood AM

And she went on to quote another of modern Welsh nationalism's founding fathers, DJ Davies, 'it is Wales alone that can lift Wales from the dust'.