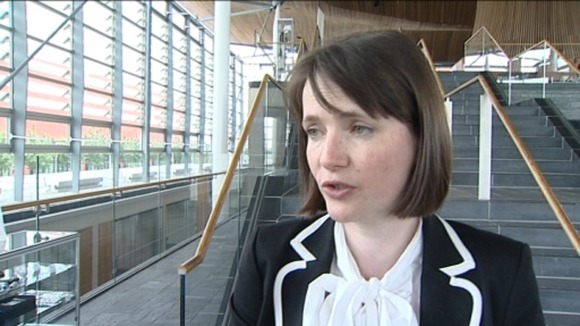 Almost exactly half way through the five years of coalition with the Conservatives that the Lib Dems signed up to in May 2010, they risk having their time in office characterised by apologies to party members and the wider public, normally only delivered after losing office.
Nick Clegg's first expression of regret was when he spoke to the Welsh Lib Dem conference before the Assembly elections and said 'Kirsty, I'm sorry'. It was an apology in advance to his party's leader in Wales, Kirsty Williams, for an expected hammering from the voters.
Despite many voters' unhappiness with the coalition in general and the u-turn on tuition fees for English students in particular, the Welsh Lib Dems made it battered but unbowed through that election. The real kicking for the party in Wales came twelve months later, in this year's council elections.
In Cardiff Bay, Kirsty Williams has established the Lib Dems as Labour's apparent partner of choice when it needs to secure a majority in the Assembly. A Welsh version of the 'pupil premium' in England, giving extra money to schools for each child from a disadvantaged background, was secured in last year's budget negotiations. Its continuation will be a deal-breaker this autumn, with the Lib Dems likely to demand progress in Wales to match what they're boasting about in England.
It was at the centre of a speech by the new Education Minister, David Laws, on the opening day of the Lib Dem Conference in Brighton.
In 2013, we will give schools £900 for every child on free school meals or in care. In our General Election manifesto, we pledged that a Liberal Democrat government would spend £2.5bn on the pupil premium. In 2014, we will ... be spending £2.5bn on our pupil premium. Our pledge will have been honoured in full. The pupil premium has gone from the paper written by Nick Clegg a decade ago to the front page of our manifesto. Through the machinery of government and now into the schools and classrooms of our country.
– David Laws MP, Minister for Schools in England

Fortunately for Mr Laws, his responsibilities don't extend to tuition fees, where the process of Nick Clegg backing a policy and it becoming a manifesto pledge did not lead to it being honoured in full by the government.

In Nick Clegg's speech to the conference rally, he only indirectly referred to his recent apology for the broken pledge to freeze tuition fees, saying that Labour's fun at his expense was hypocritical when there was so much for the members of the last government to apologise for. After saying 'sorry' he wanted to move on.
It's half time in this parliament. There were times in the first half when we as a party made errors. And we've learned some hard lessons. When the second half is over we will emerge with a few scars. But we will be able to tell people the things we have achieved.
– Nick Clegg MP, Deputy Prime Minister

The first tests of whether the voters are in any mood to accept the apology and move on will be in Westminster by elections.

One is expected in Cardiff South and Penarth on November 15, the same day as the police commissioner elections which the Lib Dems have decided not to contest. The party does not hope to win in Cardiff South but it is desperate not to finish behind Plaid Cymru, UKIP or both.

Nick Clegg's lieutenant, the Treasury Secretary Danny Alexander, was in the constituency last Thursday, doing his own apologising for the tuition fee pledge. The Deputy Prime Minister himself has already visited, laughing off suggestions that he has what he calls 'a reverse Midas touch'. In other words the curse of Clegg, where a photographed handshake with him was the symbolic moment when Lib Dem councillors knew their fate was sealed in May.It's a long way from the 'Cleggmania' of the 2010 election, not that his personal popularity saved Montgomeryshire from a Tory victory. Now he must hope that a more sober emphasis on policies can win it back. A speech in Brighton by the Energy and Climate Change Secretary, Ed Davey, probably won't make that task any easier. He strongly backed windfarms as source of green energy -and he's the minister whose approval is needed for the proposed turbines and pylons that have provoked angry protests in mid Wales.