Church bell handed back to Chile after 150 years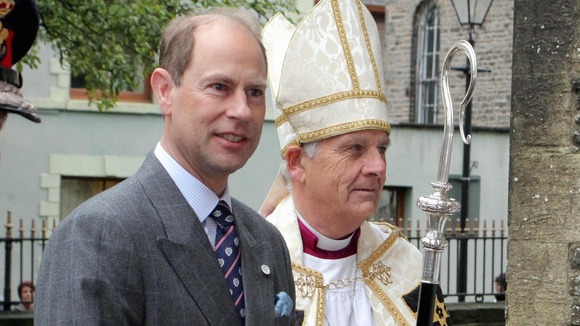 A church bell rescued from a devastating fire in Chile nearly 150 years ago and brought to Wales was handed back in a service today attended by the Earl of Wessex, Prince Edward. The St Thomas' Church, in Neath has returned the historic bell to the Earl on behalf of the British and Commonwealth Fire Company Foundation of Chile, of which he is an honorary member.
The service was also attended by the Chilian Ambassador, Tomas Muller Sproat, and the Archbishop of Wales, Dr Barry Morgan while 20 firemen from Chile formed a guard of honour.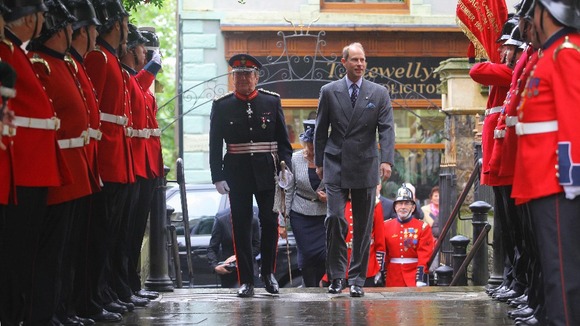 The bell was one of several rescued from a fire which tore through a Jesuit church in Santiago, in 1863, killing 2,500. They were brought to Swansea to be melted down but instead were donated to churches. Three of them, from All Saints Church, Oystermouth, were returned in 2010 to be part of a national memorial for the disaster. The one from St Thomas' Church, however, is being given to the fire service, which is made up of unpaid volunteers and which was set up in response to the tragedy in 1863.
The Rector of Neath, said the bell had never been hung at St Thomas' Church but had been kept in the building since 1870.
The church already had six bells when it was given this one so it was kept at the back and over time was largely forgotten about. We had always known it was from South America and had been given to the church by the Vivian family of Swansea. But we had no idea how significant it was until we found out about the other bells in Oystermouth. We are delighted now that it is to return to where it belongs and be part of a memorial to the brave volunteers who risk their lives fighting fires in Chile
– Canon Stephen Ryan, Rector of Neath

Children from Alderman Davies Church in Wales primary school were also at the church for the occasion and the church choir sang an anthem. The Chilean flag will flew from the church tower.

The Earl was be the first Royal visitor to St Thomas' church since Medieval times.
The church dates back to the 1290s and it would have been visited by Medieval kings as it was a garrison chapel for Norman retainers of the nearby castle. It hasn't had any Royal visitors since then so this occasion will be particularly exciting for us.
– Canon Stephen Ryan, Rector of Neath