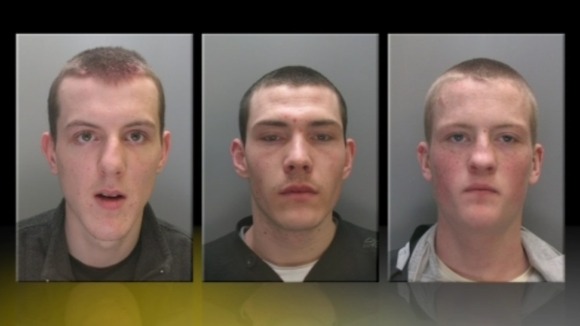 Three men who subjected a North Wales farmer to a terrifying ordeal have been jailed.
55 year-old William Ward-Jackson said he thought he was doing to die at the hands of armed robbers who burst into his isolated home in North Wales as he listened to the radio.
Today at Mold Crown Court Liam Roberts of Blaenau Ffestiniog, was jailed for a total of 9 years, Luke Evans from Aberech was jailed for 8 years and Steven Evans from Blaenau Ffestiniog for 7 years.
All 3 had previously admitted robbery and possessing a firearm.
On the evening of December 15th 2011 two masked men carrying a rifle broke into Mr Ward-Jackson's home in the Gwynedd countryside, near Pwllheli and submitted him to a terrifying ordeal demanding £30,000 to £40,000 which they believed he had in the property.
After telling the gunmen that he didn't have the cash one of the masked men told the other to shoot him.
Whilst one of the men ransacked the property the other held the gun which was pointed to the farmers head and neck.
The men then left with cash, jewellery and two shotguns but Liam Roberts returned with his own firearm and shot Mr Ward-Jackson in the leg.
After their arrests the defendants blamed each other but it was accepted that Roberts had shot the victim and 19 year-old Steven Evans remained in the car throughout.
Judge Niclas Parry told them their victim thought that he was going to die that night in what he described as "an utterly appalling incident".
This was a serious, terrifying, violent robbery in the home, awash with aggravating features.

The gravity of this incident, the fear caused was such, that it resonated throughout North Wales rural communities at the time
– Judge Niclas Parry

North Wales Police have welcomed the sentencing.
North Wales Police welcome this sentence today which reflects the callous brutality used against the victim in his own home. I would like to publicly thank him for his strength and resilience during the investigation**

I'd like to reassure the community that incidents of this nature are extremely rare and in fact the shooting of an innocent member of the public is unheard of in this area.
– Detective Sergeant Gerwyn Thomas, North Wales Police