A poignant church service has been held for missing Machynlleth five-year-old April Jones.
More than 700 locals walked through the streets of the town in a silent show of solidarity before arriving at St Peter's Church.
They had first gathered near April's home on the Bryn-y-Gog estate, many bearing the pink ribbons that her family requested be worn to keep hope alive.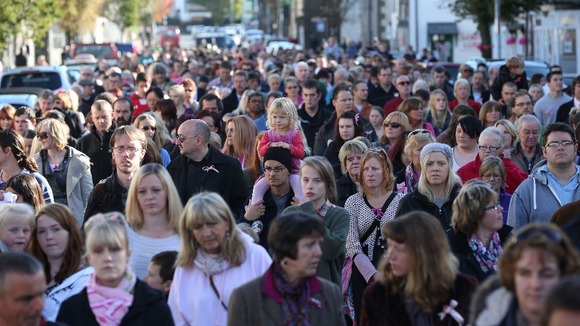 The procession then moved in subdued silence through the town before arriving at the church on Penrallt Street.
There, the Bishop of Bangor Andrew John and Reverend Kathleen Rogers conducted a special service of prayers and readings in both Welsh and English.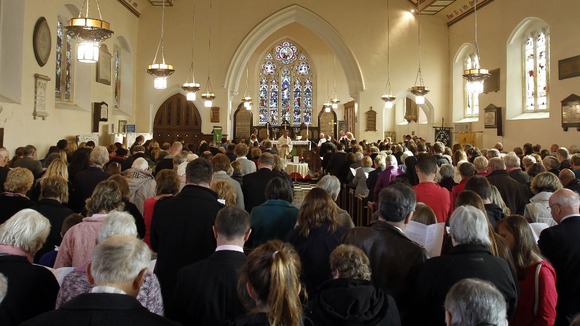 April's parents Coral, 40, and Paul, 44, were not present at the service, but prayers were offered to them by Reverend Kathleen Rogers.
Coral and Paul may not be with us this morning but we hold them very close in our hearts as we pray for them.
– Reverend Kathleen Rogers

A pink candle was lit for April and a 'Book of Hope' carried to the altar, which was then blessed by Bishop Andrew John.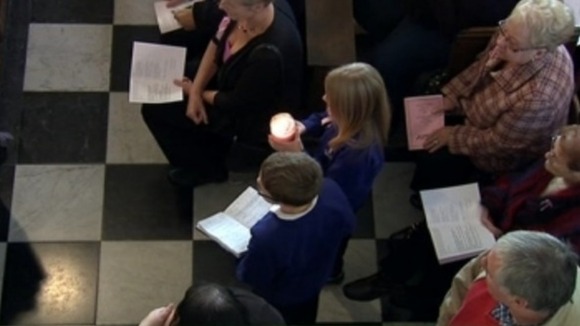 The congregation sang hymns including 'Morning Has Broken' and 'All Things Bright and Beautiful', and Reverend Kathleen Rogers read aloud a touching poem - called 'Mum' - on behalf of April's mother.
She also paid tribute to the hundreds of people involved in the search operation.
There are hundreds of people today searching our town, our countryside, our river. Many hundreds more have been searching this last week.

We thank them and we pray for them as they came to us in our hour of need and they continue to be with us.
– Reverend Kathleen Rogers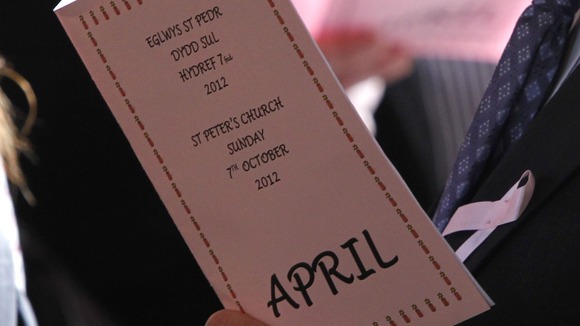 So many people attended the church service that some were forced to remain outside.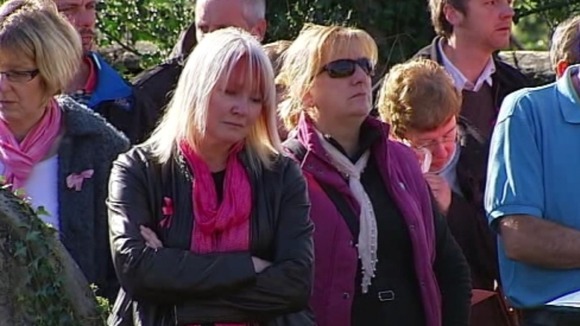 An extremely moving service for #AprilJones When Bishop came outside to speak to the hundreds gathered there was spontaneous applause
Bishop Andrew John said the service gave people the opportunity to come together to pray for April and her family, and to support each other.
This has been a very long and exhausting week for everyone in Machynlleth. It is at times like this that people need their faith most and want to turn to God for help.
– Bishop of Bangor Andrew John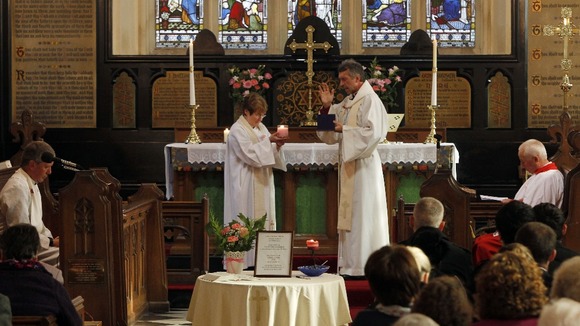 Bishop John added that the tight-knit community had 'touched the heart of people around the world'.
He said emails had been received from as far afield as South Africa and New Zealand - and even a church in Texas had made a donation.
Bishop John also thanked members of the media for telling Machynlleth's story in a 'deeply caring' way.
A statement from April's mother Coral was posted on the Facebook group 'Help find missing 5-year-old April Jones' in the early hours of this morning:
April has still not been found. I am not giving up hope that she will come home, so please please, keep looking for my baby girl April. She's our world. The whole family are in bits as we don't know where she is.
– Coral Jones, April's mother