Conservative conference
Welsh Secretary David Jones to tell Conservatives: 'No alternative to working together'
by Adrian Masters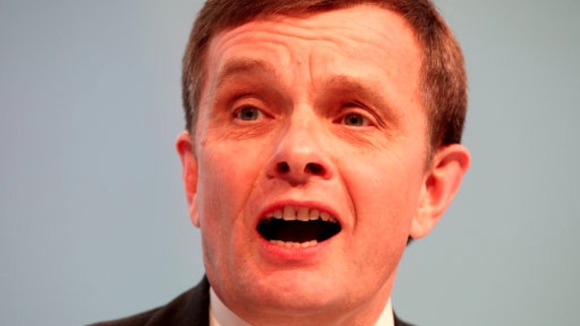 Welsh Secretary David Jones will tell the Conservative conference that the UK Government and the Welsh Government 'are not in competition with each other.'
It's a point he's made several times since being appointed to David Cameron's cabinet and he's expected to underline it when he speaks to delegates in Birmingham this morning.
He's expected to say that the two Governments must work together to 'rebuild the Welsh economy.'
... let me say clearly here today that for, my part, I don't intend to allow political differences to get in the way of working with the Welsh Government in seeking to do our best for Wales.

There is, quite simply, no alternative to working together, because the Welsh economy will not achieve its full potential unless we do so.

Together, we must send out the message that we want Wales to be competitive with the rest of the world; we are not in competition with each other.
– Welsh Secretary David Jones

He'll also say that won't mean not criticising the Welsh Government, which is exactly what another senior Welsh Conservative - the party's leader in the Assembly - is doing on council tax.

David Cameron has announced that there will be an extra £270m for English councils to 'freeze' council tax again next year. That'll have a knock-on effect in terms of extra money for the Welsh Government, although it's under no obligation to spend that money.

In the previous two years the Welsh Government has refused to follow suit, arguing that the extra money it received was less than needed and would have needed topping up from other budgets.

But the Conservatives' leader in the Assembly, Andrew RT Davies said:
Welsh homeowners deserve this freeze and to deny it would be unfair and unnecessary.

England's freeze - now over three years - will give taxpayers an average saving of more than a hundred pounds.

Not doing the same in Wales would leave homeowners and communities worse off for no reason.
– Andrew RT Davies

David Jones speaks as part of a debate on the future of the union at 9am. He and Andrew RT Davies will be taking part in a Welsh fringe meeting at lunchtime.