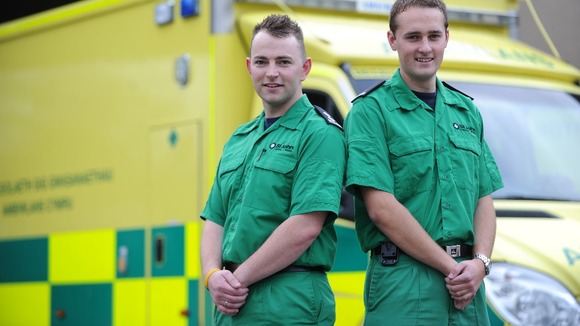 A 'young and fit' Carmarthen student who suffered a heart attack has met the two St John Wales volunteers who saved his life.
James Cory, 20, collapsed without warning during a night out last month.
But 27-year-old Andrew King and 21-year-old Mathew Jones, both Community First Responders with St John Wales, arrived at the scene in less than five minutes.
They used a defibrillator to shock James' heart before maintaining his airway and breathing until the ambulance crew arrived.
James, who can't remember any details of that night, says he owes his life to Andrew and Mathew.
Without St John being able to respond so quickly, I wouldn't be here today. I had no idea that I was ill. I'm young, I keep fit and I never contemplated that something like this could happen to me. These volunteers are amazing and I'll be forever grateful.
– James Cory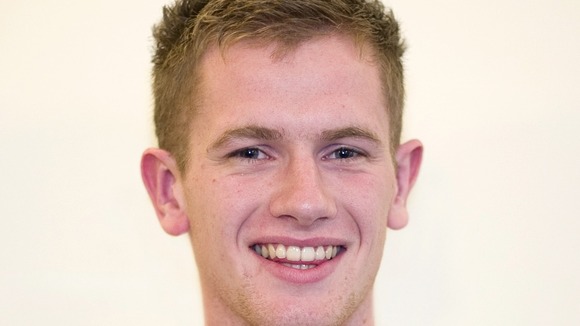 James was with friends when he suddenly collapsed on the dancefloor at Trinity St David University in the early hours of Sepember 30th.
An ambulance was called and the Sports Studies student was carried out of the students' union by the security team.
Community First Responder volunteers are trained to attend emergency calls received by the ambulance service and provide lifesaving treatment until paramedics arrive.
Andrew and Mathew were on duty in Carmarthen town centre when they received the call that James had collapsed.
We arrived to find the door staff and police officer had started basic life support by doing CPR. We quickly assessed the situation and found he was in full cardiac arrest and wasn't breathing.
– Andrew King, St John volunteer

Mathew attached the defibrillator to the student's chest and Andrew shocked him once, bringing him back to life.

When the ambulance arrived Andrew assisted the paramedic as they took James to Glangwili Hospital in Carmarthen.

James regained consciousness the following Monday but is still undergoing tests to discover the cause of the cardiac arrest.

The second year student now wants all of his friends to learn first aid skills.

Statistics show:
Every week in the UK at least 12 people under the age of 35 die from undiagnosed heart conditions
For every minute that passes without defibrillation, chances of survival decrease by 10 per cent
Applying a controlled shock within five minutes of collapse provides the best possible chances of survival
St John Wales is running the Restart Your Heart campaign to raise awareness of the importance of life-saving skills.
The excellent collaboration between the Welsh Ambulance Service and St John Wales in the form of these First Responders was clearly evident at this incident. This is what First Responders contribute to the daily lives of their communities. By arriving on the scene so swiftly, they were able to give this young man a chance that he may well not have had in other cases. We wish him well in his recovery.
– Steve Roberts, Welsh Ambulance Service First Responder Officer